After staying at English Lakes' sister hotel, Low Wood Bay, an incredibly child-friendly place just up the road, Waterhead had a lot to live up to, I thought, as I arrived with my wife and two kids, aged five and eleven.
Just a short stroll from Ambleside, my favourite town in the Lake District, the group's boutique hotel commands an enviable position on the edge of Lake Windermere. Although its design and style are deliberately different to Low Wood Bay's, I was pleased to discover that many other aspects were identical, beginning with the quality of service and genuine warmth shown by all the staff.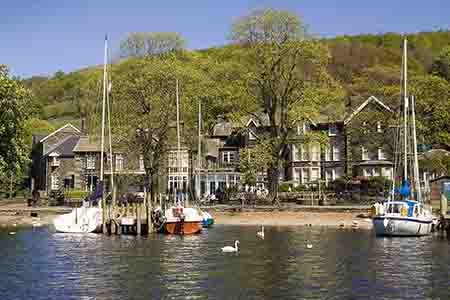 Waterhead isn't marketed specifically for families – in fact, its target audience is probably couples – but that doesn't preclude children from being made to feel welcome and wanted at this hotel; that includes in the restaurant, too. We enjoyed two dinners here and found lots of dishes to choose from, and that's not always easy at hotels, even in 2012, if you're vegetarian.
The kids were pleased to see that Sam's Club, English Lakes' children's activity club, was running at Waterhead, too. Sam is a big cuddly dog who has entertained kids of all ages at the hotels – except Storrs Hall – for years. Every child receives a goody bag on arrival and can choose from the special menu in the restaurants.
The restaurant staff are flexible when it comes to selecting dishes, which is particularly important when you're eating with children. We were able to alter aspects of our meals and were told that if we were dining at the restaurant the following evening and had a special request, let the staff know and they'll try their best to arrange it for you – well, you can't ask for more than that, can you?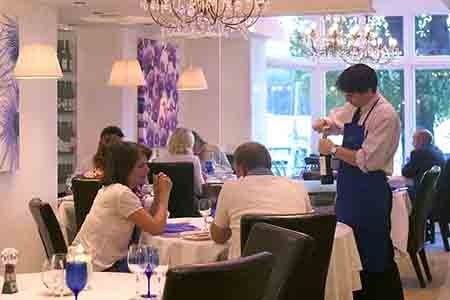 The whole dining experience was enjoyable. The restaurant's contemporary design is complemented by an array of floral canvases adorning the walls and the run of windows allowing plenty of light to pour in – as well as allowing diners chance to admire the stunning scenery on the hotel's doorstep.
Over the lawn – an ideal spot for enjoying a drink before or after dinner – and across the road brings you to the water's edge. Here, you can jump on one of the many boats cruising the lake and ferrying passengers to nearby Bowness-on-Windermere or just stroll along and relax on a bench while watching the world go by.
A calmness emanates from the hotel, which re-opened in 2004 after an extensive multi-million pound refurbishment to become the Lakes' first luxury four-star townhouse hotel. But if it's a little exercise you're after, head to Low Wood Bay, a short walk away, where you can enjoy complimentary access to the 50-foot swimming pool, Jacuzzi, hot tub and other facilities.
In 2005, Waterhead – which is ideally positioned for exploring the whole of the Lake District – won the Enjoy England Tourism Award for Cumbria's "Small Hotel of the Year" and has earned many plaudits since; it's easy to see why. Each of the 41 bedrooms are individually designed and named after local waterfalls. Quality sprung mattresses and man-made fibre pillows on huge beds made for comfy nights for us all.
The hotel group's literature states that it wants "every guest to have a memorable and perfect stay" and we certainly did. We'll be back for more.
Further information:
Cumbria LA22 0ER
T: English Lakes (Reservations): 0330 4042 690
 www.englishlakes.co.uk