Set in five acres of lush Buckinghamshire countryside on the outskirts of Marlow, there is an air of tranquillity about the Crowne Plaza Hotel. It seems in a world of its own, cocooned from outside distractions, and provides an ideal retreat for those, including families, who want to relax at the end of a busy day.
Don't let the approach to the hotel put you off. Yes, you reach it via an industrial estate but once you're at the hotel, you wouldn't know it as there is virtually no noise and the estate isn't visible because the hotel is surrounded by trees.
The history of this 160-room hotel – which offers free parking – is quite interesting, especially when you're standing at the rear of the building admiring the extensive lawn – where deer often roam – stretching down to a lake. It's hard to believe that before the Crowne Plaza was built in 1993, nearly a dozen gravel pits existed in the area. One was filled with water and formed the lake; the others have long gone, too, including one where the hotel now stands.
There is a light and airy feel to this contemporary horseshoe-shaped hotel. The walls are adorned with splashes of colour, wallpaper and artwork. A sense of space is evident as soon as you step through the door to be greeted by the helpful staff at Reception.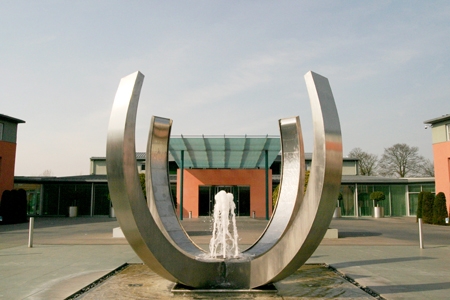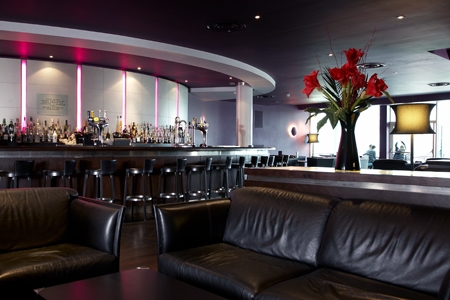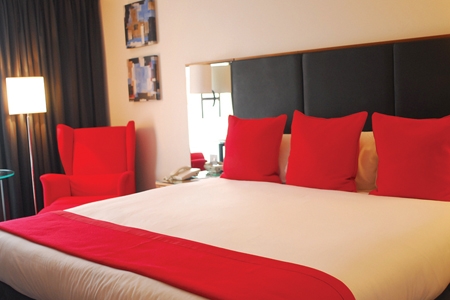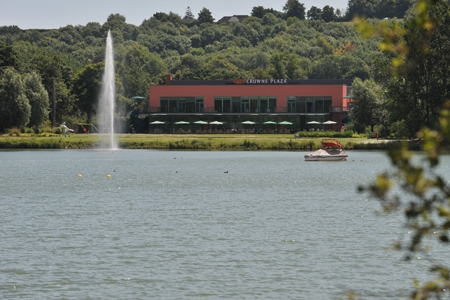 This feeling of spaciousness extends to the Glaze Restaurant, where my family and I enjoyed a scrumptious buffet breakfast (£17.50 for adults, £9.50 children, if not included in your package). I like to choose where I sit rather than being led in the opposite direction by an officious member of staff. So, it was refreshing to find everyone attentive, helpful and simply happy to let you get on with enjoying your food in the softly-lit, informal restaurant, where floor-to-ceiling windows afford diners views out towards the lake.
Dinner menus contain freshly cooked local produce and international dishes. Alternatively, head for the stylish Agua Café and Bar for light bites, coffees and cocktails. A kids' corner – containing plenty of soft toys – is available at certain times of the week, as is a Wii and movie club.
The hotel is popular for its Quad Club, too, where people can enjoy the health and fitness centre. A deep blue mosaic-tiled swimming pool, hot tub, sauna, steam room, gym and beauty treatment rooms are available to hotel guests and members of the public.
Bedrooms contain everything you need for a good night's sleep, including comfy bed and warm duvet. There is a safe (no deposit required), complimentary toiletries, sofa and large desk, just in case you need to catch up on paperwork.
An occasional grumble when visiting hotels is lack of complimentary wi-fi. In this day and age, I don't know why it can't be offered on an unlimited basis for guests. At the Crowne Plaza, a 30-minute voucher is provided, which is better than nothing, but I'd like to see them review this policy and offer unlimited wi-fi.
That aside, this is a hotel I'd highly recommend if staying in this part of the world. It's also ideally situated for anyone visiting Ascot, London and such family attractions as Thorpe Park and LEGOLAND Windsor (check out Holiday Extras, www.holidayextras.co.uk, for LEGOLAND packages, including a night's stay at the Crowne Plaza).
Note: Since we stayed, the hotel has been taken over by the Meridian Hotel Group and among the changes is the introduction of free Wi-Fi throughout the hotel.
Further information:
Crowne Plaza Marlow
Fieldhouse Lane
Marlow
Buckinghamshire SL7 1LU
t: 01628 496800