En route to our hotel in the Lake District, my eight-year-old son, Peter, asked what the "HF" stood for in HF Holidays. My explanation that it was an acronym for "Holiday Fellowship" didn't register – not surprisingly. But after enjoying a three-night break with the UK's largest walking and leisure activity holiday provider with over 100 years' experience, we decided a suitable name was "Happy Family Holidays"!
Being keen walkers, we're always eager to don our boots and head for the hills whenever we visit the Lake District. This time, we decided to explore the Northern Fells and chose a perfect base: HF Holidays' beautifully situated Derwent Bank Hotel, just outside Keswick.
This quiet, secluded country house has a prime location on the shores of Derwent Water. At this tranquil spot, various types of holiday breaks are offered by HF, including guided family walking weeks and Freedom Breaks for independent walkers.
Throughout our stay, the staff were universally friendly. On our first evening, Mariano – who manages the house with his Finnish wife, Tiia – welcomed everyone to the hotel and explained everything we needed to know. He then handed over to HF Holidays' leaders who introduced themselves and explained that they would be leading the various walks on offer over the coming days. Basically, four walks are offered each day and it's up to you which one you choose; alternatively, you can do your own thing. The walks are categorised: family walk, easy, medium and hard. The leaders advised on the distance of each walk, level of ascent involved, expected duration and the route to be taken. This aspect of the holiday was well organised.
You're well looked after at a HF hotel. Prices include full-board and the meals are delicious. After a big breakfast, you're provided with a scrumptious packed lunch, so all you've got to worry about is what fell you're going to conquer. Sandwiches are ordered the night before and then in the morning it's just a case of picking the other items for your lunch bag – and what a selection you're offered. My only comment is that sandwiches are packed in plastic containers rather than cling film. Once you've finished your lunch, you have to carry around an awkward plastic container in your rucksack rather than a screwed up piece of cling film. Space is always at a premium in my walking bag so unnecessary bulky items aren't welcome.
You select your evening meal the night before, too. There is a choice available, although for a family of veggies like us, that choice is more limited. What was reassuring for us, though, was that on the day we arrived, the head chef willingly came out to introduce himself and discuss our likes and dislikes; he even arranged to buy in Quorn sausages for my eight-year-old son – a reliable fail-safe when he's struggling to find something he likes. Overall, the evening meals were very tasty and removed the hassle of finding suitable restaurants elsewhere; and to be honest, after being out-and-about, perhaps climbing some lung-busting fell, it's nice to return to the hotel, relax in the well-maintained garden and know that you don't have to venture out again later on.
The grounds of this 18th century lakeside country house are superb – there's even a croquet lawn and putting course (both free for guests). From the water's edge, you can look across to the commanding fells of Skiddaw and Blencathra.
On the lawns in clement weather, evening activities took place. We visited during a family-walking week so the leaders organised, among other activities, a rounders match. Next evening, it was a quiz and I'm glad to say that all ages, including my youngest, felt they could participate. The HF representatives were excellent and always keen to ensure everyone was enjoying themselves. But they weren't pushy: you didn't feel pressurised to go on particular walks or partake in the activities – so well done to them all.
Unfortunately, there wasn't a big enough room available for the four of us so we occupied two doubles. Sadly, they weren't next to each other (one room divided us). Yes, it was a bit of a pain but, hey, the view made up for any inconvenience: our rooms looked out across Derwent Water – glorious. As befits an historic building, bedrooms boast their individual layout and character. All, though, contain everything required for a comfortable stay, including a range of toiletries, TV, hair dryer, towels and tea/coffee-making facilities. Downstairs, the public rooms make the most of the stunning views, including the light and airy conservatory. If you're thirsty, a licensed bar is open throughout your stay or you can sit on chairs outside and enjoy a coffee from the Dandelion Café, which also sells light meals.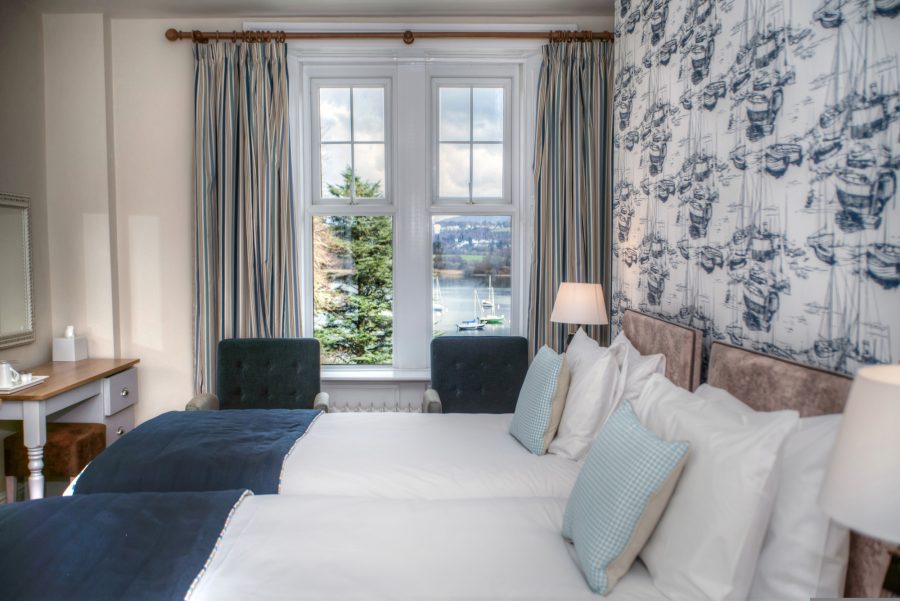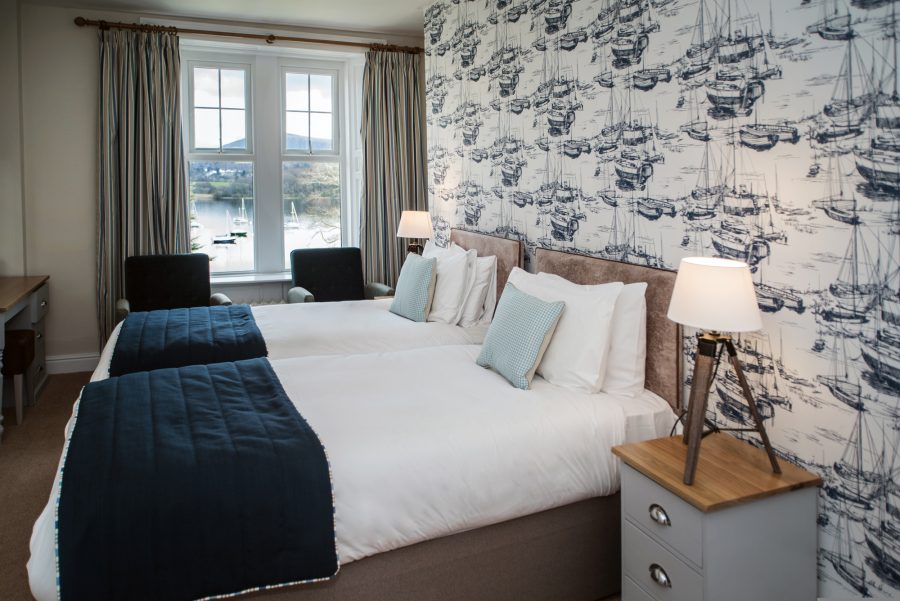 The information booklet issued prior to our break indicated that mobile signal was patchy due to the surrounding fells but we never experienced any problems. The free wi-fi seemed reliable but for anyone who can't get a signal, internet access is available on a public computer near the front door.
Due to the layout, age and location of Derwent Bank, HF Holidays point out in their brochure that the accommodation isn't recommended for wheelchair users or anyone with restricted mobility. There are no lifts either, but staff are always happy to help carry your luggage up and down the stairs.
Being a family walking break, we ventured out onto the fells. First on our itinerary was nearby Cat Bells, which the doyen of fell-walking, Alfred Wainwright, classed as a family fell. Judging by the number of children scrambling up its heights, he was right. Soon after reaching the summit and marvelling at the panoramic view, we descended and enjoyed a picturesque walk along the banks of Derwent Water. But the highlight of our walks was Skiddaw, the sixth highest peak in England, which we conquered on our second day. It was the best day weatherwise, too, so cameras were clicking repeatedly.
Overall, we thoroughly enjoyed our stay at Derwent Bank. The only negative was having to leave so soon. Basically, you're treated well and looked after from the minute you step through the door. All you have to think about is what walks to enjoy. All of us left saying we'd love to sample another break at a HF hotel – the only problem is, which of the 19 country houses dotted throughout the UK to pick? And then there are foreign holidays to consider, too. Such a choice.
More information:
www.hfholidays.co.uk, tel: 0345 470 8558 (017687 73667 for Derwent Bank)
Reviewed:  July 2015