Hidden away underneath the forecourt of Brighton's railway station is a gem of a museum which will bring memories flooding back for adults and provide a snapshot of the past for younger visitors.
It may not be the biggest museum around (it occupies four of the Victorian arches holding up the station's forecourt), but what it lacks in size, it makes up in surprises because, as its flyer states, this is "an Aladdin's cave full of wonderful things to thrill the whole family".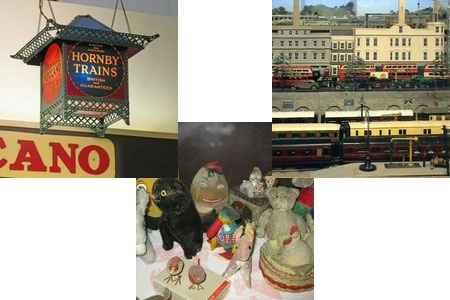 Boasting a catalogue of over 10,000 models and toys from a bygone age, highlights include pre-1930s "O" gauge trains and construction kits dating back to the early 20th century. The packed display cases – well lit by recently installed LED lighting – show items from the museum's extensive collection, some dating back 100 years. My family and I particularly liked the model railway layouts, especially the "OO" gauge based on the Sussex countryside.
The beauty of this museum – founded in 1990 – is its diversity: there is something for everyone to admire, whether it's the collection of Tri-Ang Spot-On diecast cars, produced between the late 1950s and late '60s, or the selection of soft toys from the Edwardian days onwards.
If you're visiting Brighton, make sure you pop along, it's worth it. At the time of my visit, the museum closed on Sundays and Mondays. Price for a family ticket (2 adults/2 children) was £12.50.
Further information:
Brighton Toy and Model Museum
52-55 Trafalgar Street, Brighton BN1 4EB
t: 01273 749494
Visit Brighton
T: 01273 290337