Located on Marine Parade, across the road from Brighton Pier, Sea Life should be on everyone's itinerary when visiting the town. One of 35 centres located around the world, Brighton's Sea Life boasts over 1,500 creatures and captivates its visitors by taking them on a journey from the water's edge to the ocean's depths.
It wasn't just my two children, aged six and twelve, who were fascinated by glimpses into the magical underwater world: my wife and I enjoyed spending just over an hour (Sea Life say you'll need, on average, 1.5 to 2 hours to appreciate the visit in full) watching everything from seahorses to sharks.
I like coming away from marine life attractions feeling that I've learnt something about the world around me – and, in that respect, Sea Life scored highly. I particularly enjoyed reading the amazing facts dotted around the centre. Did you know, for example, that the arapaima, a tropical freshwater fish, can grow to the size of a minibus? Or what about coral reefs occupying less than 1% of the ocean floor but having over a quarter of all marine life living in them? Well, these are just some of the facts you'll discover inside Brighton's Sea Life which, at 140 years old, is reportedly the world's oldest operating aquarium.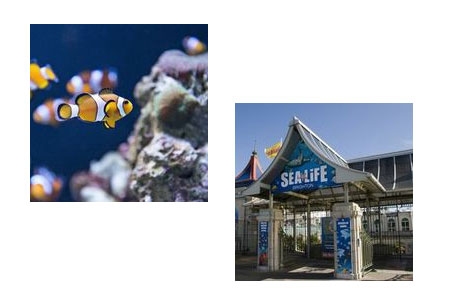 As well as 50 displays and an interactive rock pool experience (you can touch crabs and starfish), a ride on the Glass Bottom Boat – you have to pay extra for this, around £3pp – is recommended. Although you'll see many of the same creatures while just walking around, the boat provides, as Sea Life's website states, a snorkeller's view – plus, you'll learn about such important issues as loss of coral and eco-system damage from the boat's "captain".
Our favourite sections included the Ray Pool (apparently, there are around 60 species of ray in British waters) and walking through the Ocean Tunnel while fish of seemingly every description glide along, after which we enjoyed a snack at the café.
We returned to Sea Life Brighton in February 2016 and were pleased to find several additions to what was already a fascinating place to visit. Two extra zones worth mentioning are Jurassic Seas and Rainforest Adventure.
In Jurassic Seas, you journey back 145 million years to discover what ocean-dwelling creatures were living during this period. It was fascinating to learn that the earliest form of shark was swimming around 400 million years ago, long before the dinosaurs!
My favourite zone, though, was Rainforest Adventure. When you walk through this area it's really like you're venturing into a dense forest; it's not just the animals on display (everyone wanted to see the green anaconda which grows up to nine metres long and can swallow its prey whole) which impress, it's the way the area has been designed in terms of the flooring and overall structure – it's so realistic.
Cheapest prices are online, although tickets via the website must be purchased at least a day before visiting Sea Life, which is open every day of the year (excluding Christmas Day) from 10am.
Further information:
Sea Life
Marine Parade, Brighton BN2 1TB
t: 0871 423 2110
Visit Brighton
T: 01273 290337
 
Revisited February 2016