The Dorset seaside resort of Bournemouth has something for everyone, making it an ideal location for holidaying by the sea: seven miles of golden sand, two historic piers, bustling promenade, plenty of gardens and green spaces, countless restaurants – and that's just for starters.
I visited with my wife and two children (aged twelve and six). We were guests of Daish's Holidays, a family-run company owning five hotels, including the Sands Hotel in the town (more of that later).
Until now, our visits to Bournemouth had been fleeting, so when the opportunity to spend a few nights in the town – which attracts 4.8 million visitors annually – came along, I wondered if we'd find enough to keep us all occupied: I needn't have worried, though, because it was a case of not being able to fit everything in.
One of Bournemouth's attractions is the sheer scale of greenery. There are more than 2,000 acres of award-winning gardens throughout the town. The "Gardens by the Sea", which we enjoyed exploring, start at Pier Approach and weave their way for two miles.      
One of our first ports of call was Oceanarium (alias Bournemouth Aquarium) which is situated right on the seafront, next to the main pier entrance. Their visitor leaflet states: "From stunning sharks, huge green sea turtles and colourful clownfish to menacing piranhas and venomous lionfish, discover a whole world of oceans under one roof!" And you do.
It's such an exciting and fascinating place to visit, for adults and children alike; I learnt just as much as the kids, thanks partly to the interesting facts scattered around the place. Did you know that sharks get through thousands of teeth in their lifetime: when one is lost, another replaces it? Or that the tongue of a blue whale is the size of an elephant?
One of our favourite features was the Great Barrier Reef, a tunnel taking you underwater while swimming gracefully above your head are the incredible creatures one finds in the Reef itself. We also enjoyed the virtual Interactive Dive Cage (the world's first, according to Oceanarium) affording us the chance to experience the great white shark, manta ray, dolphin and blue whale up close without getting wet!
What is useful is that your tickets are valid all day, so you can have a look around and return later on, if you wish.
We could have stayed longer but had lunch booked at Flirt Café in the town centre. I loved the promotional flyer the caff produced stating that the owners and staff are "Gay friendly, Straight friendly, old friendly, young friendly, dog friendly, veggie friendly……and lots more friendly". As everyone is welcome, it's not surprising to find the place exudes a relaxed, affable atmosphere – and the food is brill, too.
It's always satisfying to discover somewhere unusual to eat – and this really is a fun, quirky place. The minute you walk through the door you know it isn't your average town centre eatery, especially with customers sat chatting while relaxing in a row of aeroplane seats!
The pink, turquoise and green walls are adorned with posters and paintings while hanging from the ceiling, rather bizarrely, are Barbie dolls and Action Men! There are plenty of toys scattered around to keep the kids amused, too, including bar football.
Open from 9am-11pm, there is a wide selection of tasty meals and drinks on offer. I chose aubergine bake topped with cheese and served with rice – and it was delicious. To drink, I picked a "Geoff" smoothie (orange juice base with pomegranate, strawberry, blackcurrant and apple). For dessert, we opted to share a waffle with Nutella and banana; I'm glad we decided to share because the portion was huge – good value for money.
After a hefty lunch, we burnt off some calories by hiring a bike and riding along the promenade. Front Bike Hire are open all year and can be found a stone's throw from the pier, in the direction of Boscombe.
Tom, who was friendly and helpful, soon had our bikes ready to use. With hire rates from £5, it's a fun way to explore the miles of beach promenade. In bright sunshine, we cycled west towards Sandbanks. It was a day of strengthening wind so while we exerted real effort initially, our return trip was a breeze – quite literally, because we were blown back most of the way and didn't have to pedal too hard.
It was certainly an afternoon of calorie-burning because we swapped bikes for roller skates at the Bournemouth International Centre (BIC). A multipurpose venue which boasts events all year round, it attracts all the top acts; each year, a roller rink is opened, too. But no matter how many times I strap on a pair of roller skates, I'll never get the hang of staying upright once I set foot inside the rink. While my wife and two kids were soon whizzing around the place, I was counting the number of times I dragged myself off the deck. Still, my antics raised a few laughs for the rest of the family.
Although there is much more to Bournemouth than golden sand and a sunny sea front, the seven miles of promenade do take some beating. During our visit, we rented a beach hut for the day and simply sat and relaxed while watching the world go by.
There are 250 huts which can be hired for a day, week or longer periods. Daily charges start from £8.50 and each hut is equipped with four deckchairs and a gas ring. You have to come prepared if you want to use the ring, of course, or else bring your own flask of coffee or buy something in the numerous cafés dotted along the seafront.
Having a hut for a day means you can come and go. We locked up and headed for Russell-Cotes Art Gallery and Museum, which is promoted as "one of the most fascinating historic houses in England". What I couldn't work out is why it has taken us so long to discover this gem?
Overlooking the sea, and – again – just metres from the pier entrance, the property is a genuine treasure trove, boasting over 1,000 objects and artworks on display. Sir Merton Russell-Cotes, Mayor of Bournemouth between 1894-95, gave the house to his wife as a gift. Inside today, visitors can admire the myriad items which exemplify their love of art and travel. The walls of the impressive main hall, for example, are adorned with Victorian and Pre-Raphaelite artwork. Each room is packed with an array of fascinating exhibits.
Throughout the year, there are many exhibitions, talks and events taking place. But whether you're visiting for an event or just to admire the gallery and museum, find time to visit the on-site Urban Renaissance Café. It's a comfy, white-walled dining area with large windows allowing light to flood in. The quality of food is high and the cakes particularly scrummy!  
There is so much to do in Bournemouth that you can easily enjoy a holiday here without stepping beyond the town. But for anyone who likes to spend a day exploring, you're close to many treats, including the New Forest with its open landscapes and miles of footpaths; then there is the nearby coastal town of Poole with its natural harbour, busy quay and much more besides.
On our last day in the area, we travelled to Poole Quay and caught the ferry across to the National Trust's Brownsea Island. My wife and I had always wanted to visit this isle within Poole Harbour, which is just a short boat ride away from the quay.
One thing I love about islands is their isolation. However near they might be to the mainland – and Brownsea is very close – there is always that feeling of being in a different world, away from the hustle and bustle of mainstream living. Although tourists flock here, especially spring and summer, there is a real sense of tranquillity. Despite being tiny – just 1.5 miles by 0.75 – there are still plenty of moments when it feels like just you and the island.
The 500 acres of woodland, heathland and salt marsh are a haven for wildlife. It's one of the few places in southern England where you can spot red squirrels; it was well into our adventure on Brownsea before we spotted our first, scampering away into the woods, but what a delight.
Baden-Powell hosted the first Scout camp on the island in 1907 and I'm sure they would have enjoyed themselves as much as we did. The island has a gift shop, information centre, café, a nature reserve (managed by Dorset Wildlife Trust) and acres of beautiful countryside, home to not only squirrels but peacocks, deer and plenty of birds.
Throughout our break in Bournemouth, we stayed at the Sands Hotel in Westcliff Gardens. It's an ideal location because not only does it have plenty of parking spaces right outside the front door, it's also within walking distance of the town centre and promenade.
The hotel is part of Daish's Holidays. Founded in 1979, the company originally operated just on the Isle of Wight (it still retains a hotel in Shanklin) but branched out into Cornwall and southern England. Although the Sands may not be the prettiest hotel in the group, you'll be hard pressed to beat the warm welcome; and that warmth was evinced by all staff, not just management.
It's a close-knit operation at Daish's, very much a family affair, and that shows in the way guests are treated; it partly explains why many of the faces turning up at the Sands had not only been before many times, they'd visited the other four hotels, too. Obviously, repeat customers can only mean one thing: they're getting things right.
It's fair to say that the lion's share of Daish's customers are pensioners, but the company is keen to attract families, too. When we visited, during a school half-term holiday, the vast majority of people were elderly. Nevertheless, plenty of thought had been invested into keeping kids entertained. Among the activities arranged were balloon modelling, wii games and plate balancing; there is also a games room which my two enjoyed.
Daish's Holidays have a set formula which rarely changes from week-to-week, but that's because it works. Evenings follow a familiar pattern: quiz, evening entertainer, bingo, more of the entertainer, more bingo.
Breakfast and dinner are served within a tight timescale; oh, and dinner has to be ordered when you sit down for your brekkie. Initially, I thought I'd find this a little restrictive but far from it: it helped the smooth operation of the hotel and meant that no sooner had you sat down for dinner than the first course was brought to your table.
Coach excursions to nearby places of interest are available on a Daish's Holiday or, alternatively, you can explore independently. Whatever you choose to do, I can guarantee you'll have a smashing time at the Sands Hotel and in Bournemouth itself.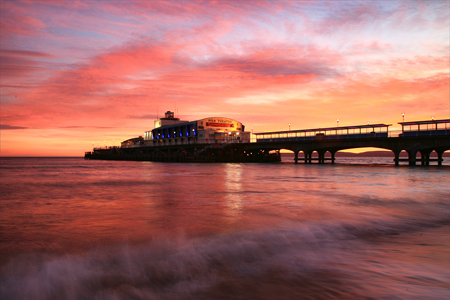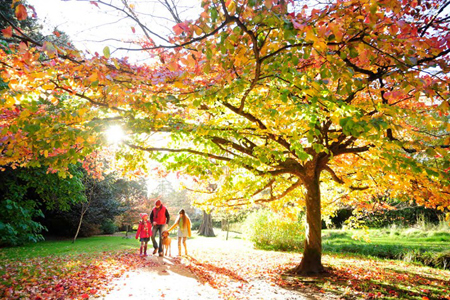 I'll certainly be visiting Bournemouth again because it's one of the resorts where there is always more you could do, given a little extra time. And I'll definitely recommend Daish's Holidays for a family holiday and will be looking at which hotel we can visit next.
More information:
www.daishs.com, tel: 01803 201432
www.front-bike-hire.co.uk, tel: 01202 373280
www.russellcotes.com, tel: 01202 451858
www.oceanarium.co.uk, tel: 01202 311993
www.flirtcafebar.com, tel: 01202 553999
www.bournemouthbeachhuts.co.uk, tel: 0845 055 0968
www.nationaltrust.org.uk, tel: 01202 707744
www.bic.co.uk, tel: 01202 456400
For information on Bournemouth, visit www.bournemouth.co.uk, the official tourist information site, or ring 0845 051 1700.