Often when we're heading off on a family trip it's all about reaching our destination as quickly as possible: the transportation from home to resort is just a means to an end. But that didn't apply when it came to visiting Jersey because getting there is a big part of the adventure!
My wife and I travelled with our two children (aged twelve and six) and one of the best parts of our holiday was crossing the English Channel with Condor Ferries.
OK, we were fortunate and happened to pick days when the sea wasn't too choppy or the swell particularly stomach-churning, but one of the biggest advantages of choosing a Condor ferry rather than conventional ferry is speed: it reduces the crossing time considerably, by at least half.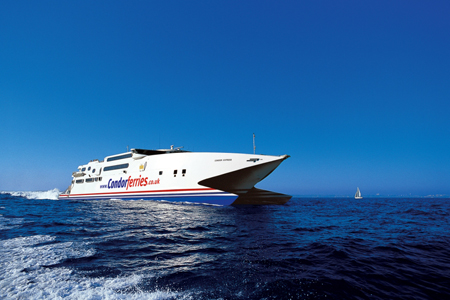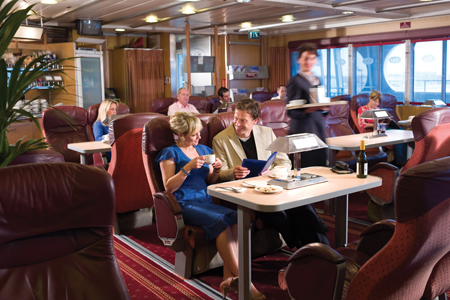 There are three choices when it comes to seating: standard, reclining or Club Class. While the standard and reclining looked perfectly comfortable, we travelled in style in Club Class. It's an extra £22.95 per person (including children) per journey but I felt was value for money.
This stylish service offers reclining seats in a private area; tables; steward service (they'll take your orders for, say, lunch and bring the food to your table); complimentary newspapers; tea, coffee and soft drinks and a selection of biscuits, etc.
You have the best of both worlds in Club Class: not only are you situated in an environment conducive to sitting back, relaxing and enjoying the crossing but you can also go out and explore the rest of the high-speed ferry – and there's plenty to help pass the time. Facilities include a children's play area, restaurant, bar, shop and, of course, outdoor viewing area.
Another thing which impressed me was the professionalism and helpfulness of the staff; nothing seemed too much trouble, whether that was one of the crew serving in the shop or dishing up food in the restaurant. Oh, and what made my little boy's day – and my daughter's, come to think of it – was being able to spend a few minutes with the captain on the bridge. We asked a member of staff who spoke to the captain and everything was arranged, it was as simple as that – great customer service.
Jersey, the largest and southernmost of the Channel Islands, promotes itself as the "warmest place in the British Isles", and we were blessed with fine weather during our visit.
We camped (using our own tent, although fully-equipped tents can be hired) at a pretty little site, Rozel Camping Park, which normally opens May-September. Situated in the north-east of the island, it offers everything needed for an enjoyable stay. 
Pitches were spacious and the immediate surroundings rural and peaceful. The site has a games room, TV room, toilets/shower block, washing-up facilities, small shop, free wi-fi (in limited area) and large open-air swimming pool. I'd definitely return to this family-run site because we were made to feel welcome, the atmosphere was relaxed, the facilities fine and everyone enjoyed themselves.
Although we would happily have spent more time at the site, we were here to explore the island – and at approximately nine miles by five, it's easy to achieve that. Its size is deceiving, though, because there is so much to do on the island – in terms of attractions and places to visit – yet it doesn't feel cramped; there is still plenty of open countryside to admire.
If you fancy lacing up your hiking boots, there are plenty of walking opportunities. Whether you prefer a gentle beach walk or more challenging trek along rugged cliff paths, you'll be spoilt for choice. Our favourite walks were on the north coast, the wildest part of Jersey.
Among the island's many places of interest is La Hougue Bie, where we learnt, among other things, about Jersey's Neolithic community 6,000 years ago. One of Europe's most impressive passage graves, you can walk up to a medieval chapel sitting atop a prehistoric mound. Treasures on display in the geology and archaeology museum include swords, spears and coins.
The Jersey War Tunnels are a must for your itinerary. Between 1941-44, forced labourers, working in horrendous conditions, dug nearly a mile of tunnels and chambers into the rock, producing an underground network which was protected from air or land attack. There are displays throughout the tunnels, including one reflecting on life for the locals during the German occupation; it's a very interesting and moving place, well worth visiting.
More history is evident in the shape of coastal fortifications found all around the island, dating from different periods, including the Second World War; these are worth seeing – in fact, we spent a lot of time exploring the coastline and the many wonderful beaches which come in all shapes and sizes. Everyone has their particular favourite and we liked Grève de Lecq on the north coast because its golden sands are easily accessible and there are parking opportunities close by. The beach is sheltered – unless a northerly is blowing – and we spent a pleasant afternoon here.
Our favourite to walk along, though, was St Ouen's Bay, which is popular with surfers who enjoy the Atlantic rollers crashing onto this five-mile stretch of uninterrupted sand. If you want to swim, however, you need to be careful and look out for which sections are restricted. Currents are strong and even the most proficient swimmers should take care.
If you visit the island between Easter and Autumn, pop along to Jersey Lavender Farm, where lavender has been produced for over three decades.
Within nine acres of land, 55,000 lavender plants produce a blaze of colour when in bloom. Sadly, we missed this spectacle but still enjoyed our visit to the farm. The kids liked the Discovery Nature Trail while we found the video presentation inside the distillery, spotlighting the various stages of production, interesting. Meanwhile, in the bottling lab you can see where the oils are matured and blended with other ingredients to form fragrances for the perfumes and toiletries.
Before you leave, make sure you pop along to Sprigs Café and try the lavender cherry pie and ice cream – delicious!
Jersey suits all ages: after walks, playing on the beach and visiting a host of attractions, we took the kids to aMaizin! Adventure Park, which offers free parking and over 30 activities, including a maze made from natural corn which opens each year on 1st July. Luckily, we found our way out to enjoy the rest of the activities, such as the 50ft Jumping Pillow!
Before you head home, find time to wander around St Helier, then there's Durrell Wildlife Park, set in 31 acres of beautiful grounds, or you can hire a bike and enjoy cycling along the country lanes; then there is…oh, the list is too long and chances are you'll need further trips to cover everything you want to do.
My only moan relates to understanding the parking procedures around the island, which seem to differ depending in which region you're trying to park. Different colour ticket zones seem to be in operation and, personally, I found it a little confusing as a visitor. Of course, it could just be me but it's something I felt needed highlighting.
Other than that one negative, our time on Jersey was extremely enjoyable and a break on this sunny island is highly recommended.
More information:
www.condorferries.co.uk, tel: 0845 609 1024
www.rozelcamping.com, tel: 01534 855200
www.jerseyheritage.org, tel: 01534 633300
www.jerseylavender.co.uk, tel: 01534 742933
www.jerseywartunnels.com, tel: 01534 860808
www.jerseyleisure.com, tel: 01534 482116
www.durrell.org, tel: 01534 860000
For information on Jersey, visit www.jersey.com, the official tourist information site, or call Jersey Tourism on 01534 448800.