The trouble with Stratford is that there is too much to see and do! We visited last year for an action-packed break but still returned home eager for more. So, the opportunity to return to this fine Warwickshire town, which lies on the River Avon some 20 miles from Birmingham, was welcomed by my family.
Stratford-upon-Avon is what you expect of an old English town. Some times places fail to meet your expectations but not so Stratford. Understandably, the town lures millions of visitors each year through its links with William Shakespeare – after all, he was born and raised here. But beyond its literary connections, the area has much more to offer.
For starters, visit the MAD (Mechanical, Art & Design) Museum in the centre of town for some quirky fun. I can promise you, you won't find anything quite like this place. The museum's information leaflet says it's the only one of its kind in the UK and I'm sure they're right. Here, they're "showcasing the world's finest pieces of kinetic art and automata from pioneering artists all over the globe…the museum is a celebration of movement, mechanics, creativity and art. It's where science and design join forces." It was certainly a hive of activity when we visited and is ideal for anyone intrigued by unusual exhibits.
Close by was one of our favourite attractions: Tudor World. The museum is set inside an historic building on the only cobbled road remaining in Stratford. As soon as you tread onto the cobbles, it's like you're transported back in time to the often gruesome world of the Tudors; if you wanted to know how nasty it could be – but don't worry, it remains family-friendly – make sure you catch one of the entertaining live shows (usually during weekends and school hols) where suitably-attired actors give you a history lesson you'll never forget – you might even end up helping them with the performance as my two kids discovered!
But there's much more to Tudor World, including evening events (e.g. a lantern-lit ghost tour) and a very interesting museum to wander around.
Of course, you can't visit Stratford without experiencing something of Shakespeare's legacy and we headed for two of the family houses we hadn't visited before: New Place and Nash's House, where the Bard lived whilst a successful playwright, and Hall's Croft, home of his daughter, Susanna, and her husband, Dr John Hall.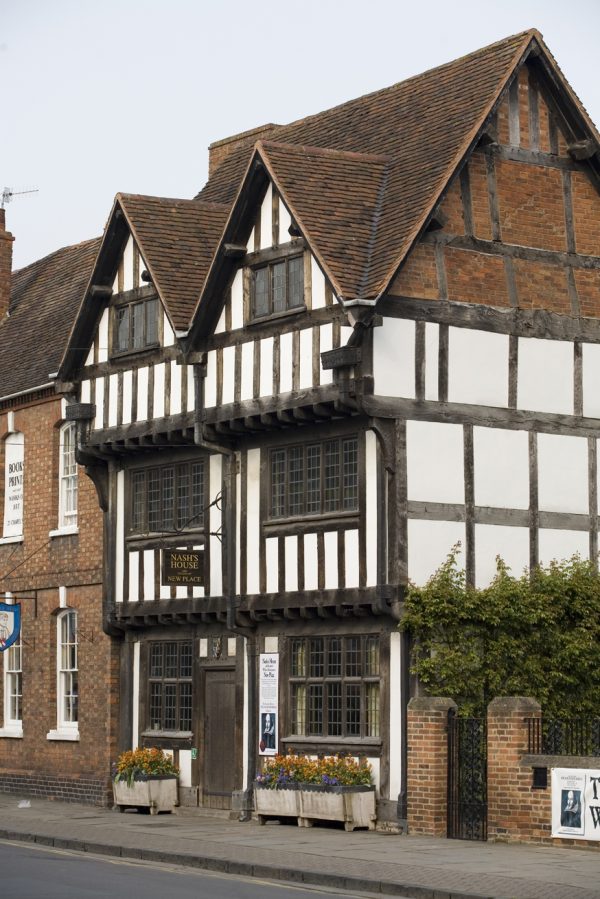 As you'd expect, both properties are in remarkable condition and it's wonderful walking around somewhere you know Shakespeare once lived or visited.
After a busy afternoon, we decided to rest our weary feet for a while and climbed on board one of Avon Boating's vessels for a 40-minute river cruise (open April-October). Gently sailing along was an ideal way to relax.
Next day, we drove away from Stratford to Ragley Hall, Park and Gardens. It's a place you'll need several hours – perhaps even an entire day – to fully appreciate. Situated two miles south-west of Alcester and eight from Stratford, it's home to the 9th Marquess and Marchioness of Hertford and their children.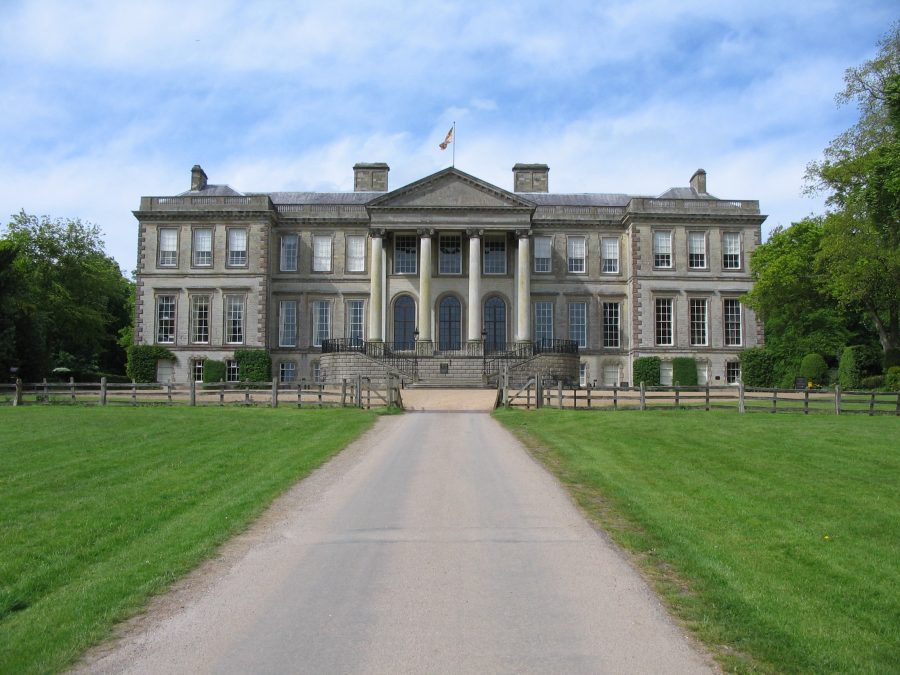 This 400-acre estate is one of Warwickshire's most visited sites and it's easy to see why. The open grassland and clutches of woodland stretch as far as the eye can see and unlike many stately homes it has something for all ages.
We sat on a bench while our two kids enjoyed the adventure playground and 3D maze before we wandered beside the lake. Boaters glided across the still water in their canoes, kayaks, pedal and rowing boats (all can be hired).
Make sure you see the large gardens designed by Capability Brown, the English landscape architect, which boast – among other features – a rose garden, family sculptures and a winter garden; and if you have time, enjoy the 1.2-mile Woodland Walk, too.
Of course, at the heart of the estate is the house itself. Ragley Hall dates back to the 17th century and the rooms open to the public are full of beautiful artwork, antique furniture and intricate ceramics. It's worth noting, however, that you can only explore the house as part of a guided tour.
Ragley offers pure tranquillity and when the sun is shining there can be no better place in the region for enjoying a picnic (it's not open all year so check the website for opening times).
If you haven't packed a picnic and have built up an appetite, there are myriad places to eat in and around Stratford. Being lovers of cafés and tearooms, we were pleased to see so many to choose from. We indulged ourselves by ordering a high tea at The Arden Hotel and, the following day, munched our way through a delicious cream tea at Church Street Town House. Both establishments offer high-class service and equally impressive food.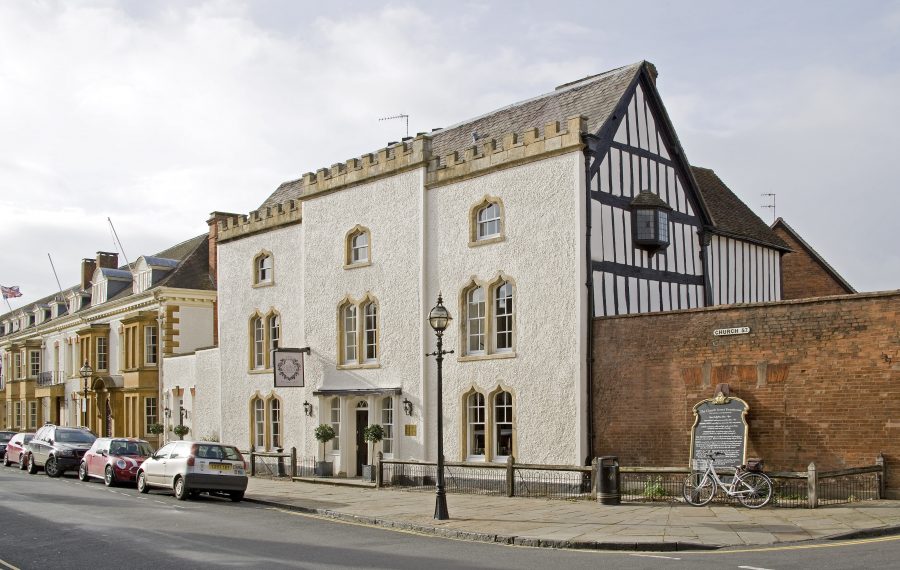 When choosing somewhere to stay, you can't go wrong at the 104-bedroom Stratford Manor, one of QHotels' many 4-star hotels in the UK.
It's perfectly located because although situated in a very tranquil setting, surrounded by green fields, it's just a few minutes' drive from the town. In front of the horseshoe-shaped building there is free parking in the large car park. A few steps lead up to the entrance but wheelchair users or those not wanting to lift their suitcases can use the ramp.
On entering the spacious lobby, you're met with a warming smile from the hotel's friendly receptionists. This is indicative of one of the hotel's greatest strengths: its welcoming staff. We found everyone friendly and genuinely eager to help.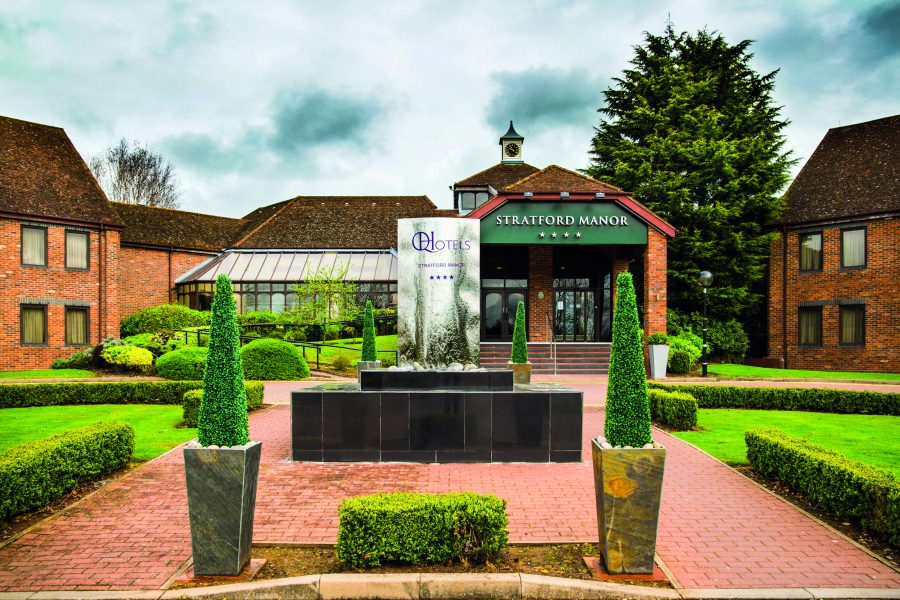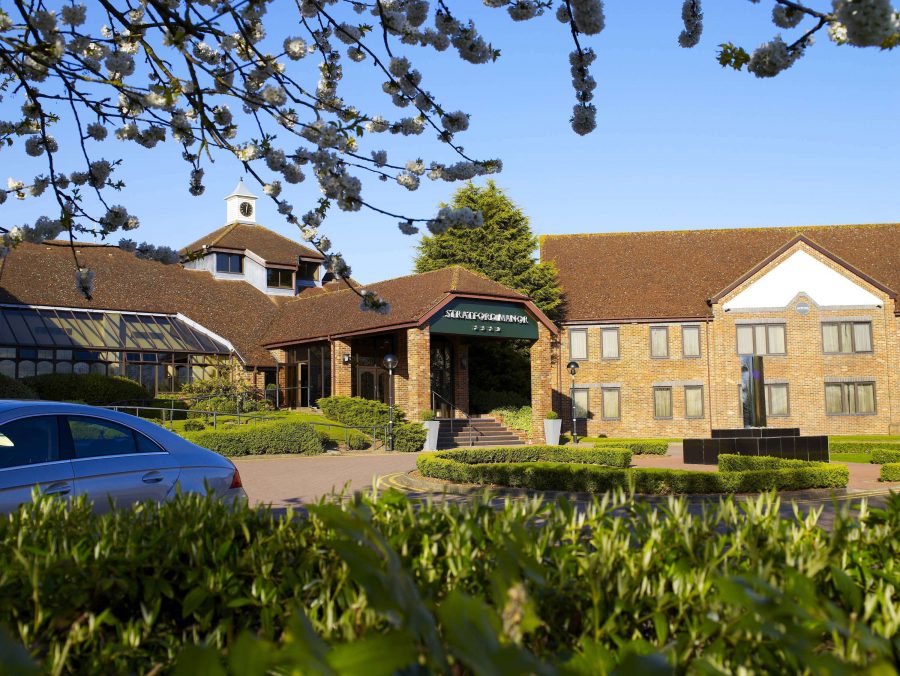 Our room was inviting with its rich, warm chocolate and cream décor, squishy beds, comfy armchairs, flatscreen TVs, tea and coffee-making facilities and spacious bathroom – everything you could ever need.
It's refreshing to see a hotel chain realise that offering free wi-fi to its guests is no big deal. In this day and age, it seems remarkable that some hotels still insist on charging customers – not so at Stratford Manor.
We used the swimming pool during our stay. The kids loved it and the "children's splash times" were very generous: 8am-11am and 4pm-8pm. It's a shame, though, that more space within the pool couldn't be allocated to the children's shallow end, which was cordoned off but very small. Luckily, it was empty when Peter, my seven-year-old, wanted to use it. On a busy session, however, it might not have been so enjoyable for him.
We eat in the restaurant one evening and found the food delicious. We're vegetarian and didn't struggle finding something on the menu to suit our tastes. As for the children, the staff were flexible and more than happy to swap a few ingredients to ensure Hollie and Peter had a meal they enjoyed, too.
We were sad to leave Stratford Manor and the area as a whole. Even though we'd achieved much during our short break there were still attractions we didn't have chance to visit. So, it looks like another visit will be on the cards.
But we couldn't leave Stratford before visiting the Butterfly Farm, something we enjoyed last time we were here. It promotes itself as the "UK's largest tropical butterfly paradise" and is minutes from the town centre. Closed only on Christmas Day, it's a must for anyone's itinerary.
On-site parking is for disabled only. Other car drivers should park in the pay-and-display area just outside the entrance.
Entering the Butterfly Farm is like stepping into a tropical rainforest. The humid air is awash with colour as hundreds of the world's most beautiful examples fly around you.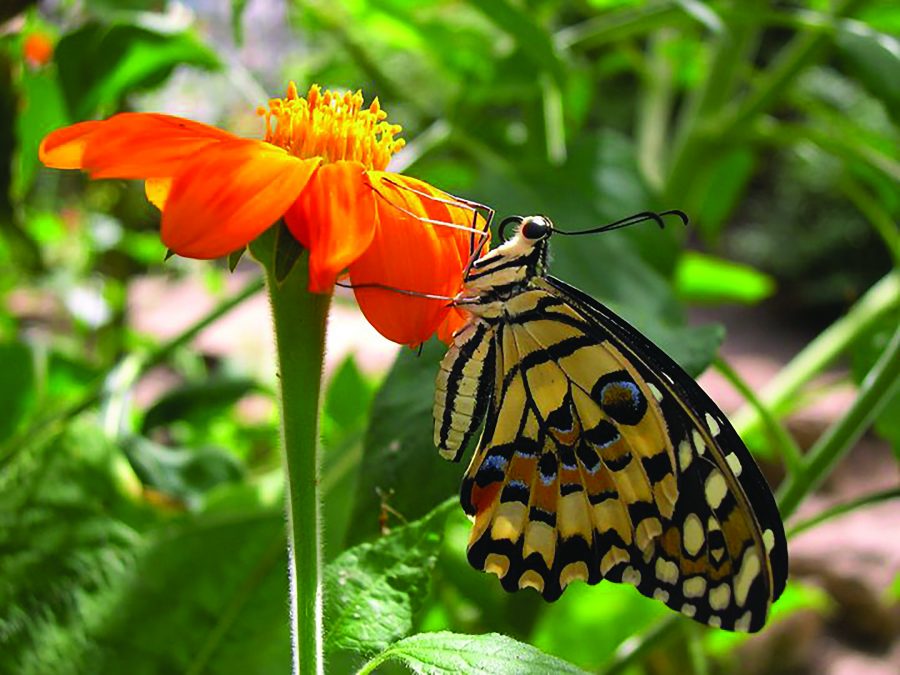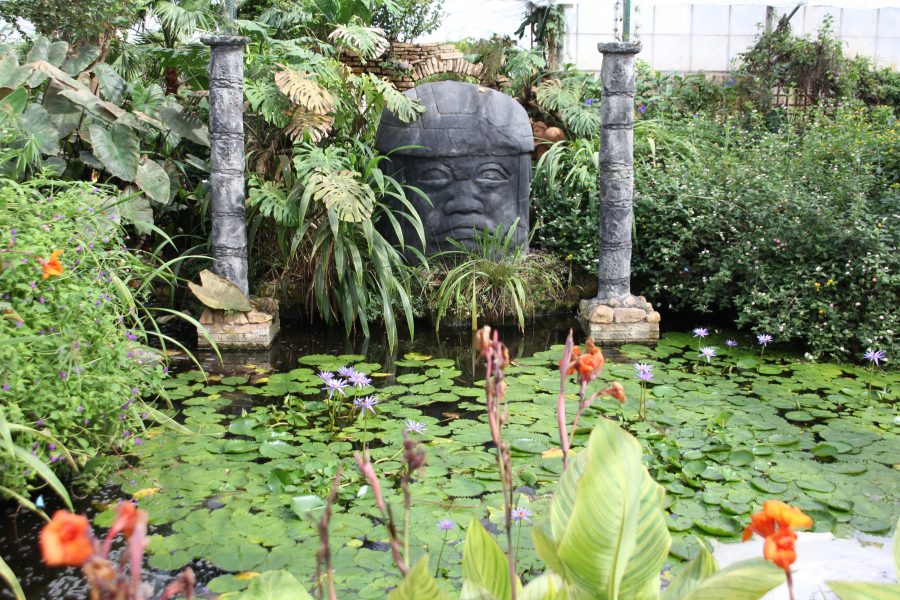 The miniature world inside the building is full of fish-filled pools, bubbly waterfalls, exotic plants and informative displays. The Caterpillar Room, for example, spotlights the butterfly's fascinating lifecycle; here, you'll see a selection of large and camouflaged caterpillars, together with cocoons and silk moths.
The Butterfly Farm claims to have the largest live insect display in the world. I can't comment on that but can confirm that there are enough on show to interest adults and children alike. My daughter, Hollie, enjoyed Insect City where you find a host of stick insects, beetles and much more. My son, Peter, was fascinated by the mini-beast section. All of us, though, shivered slightly on entering Arachnoland, home to scorpions and huge spiders!
And before we jumped in the car and headed home, we took another opportunity just to stroll around the town. Make sure you allow time for just wandering the streets, admiring the architecture, soaking up the atmosphere and simply appreciating what a beautiful town Stratford is.
More information:
Shakespeare's England, 01789 260677, www.shakespeares-england.co.uk
Stratford Manor, 01789 731173, www.qhotels.co.uk
The Butterfly Farm, 01789 299288, www.butterflyfarm.co.uk
Ragley Hall, Park and Gardens, 01789 762090, www.ragley.co.uk
MAD Museum, 01789 269356, www.theMADmuseum.co.uk
Tudor World, 01789 298070, www.tudorworld.com
The Shakespeare Birthplace Trust, 01789 204016, www.shakespeare.org.uk
The Arden Hotel, 01789 298682, www.theardenhotelstratford.com
Church Street Town House, 01789 262222, www.churchstreettownhouse.com
Avon Boating, 01789 267073, www.avon-boating.co.uk