It's extremely rare that I settle down to write a review with nothing but positives to report. However much I've enjoyed a visit to an attraction, hotel or restaurant, there is usually something, however small, where I can offer some constructive criticism in the hope that the proprietor can improve their customers' experience. But I've encountered one of those gloriously golden moments again where it's all pros and no cons!
If you ever get the chance to stay or eat at The Atlantic Hotel, which sits above St. Ouen's Bay on Jersey's west coast, grab it with both hands because it'll be an experience you'll never forget. It's a fantastic place and I can't recommend it highly enough.
I visited with my wife and two children, aged 14 and eight, for a short break and despite the atrocious weather, even though it was August, I haven't enjoyed staying at a hotel more.
Its unbeatable location had me entranced from the first moment I opened the bedroom door and saw the view from the step-on balcony. In fact, on the mornings when rain was sweeping across the expansive lawn, I was content to sit and stare out towards the Atlantic Ocean, listening to the distant sound of waves breaking over rocks.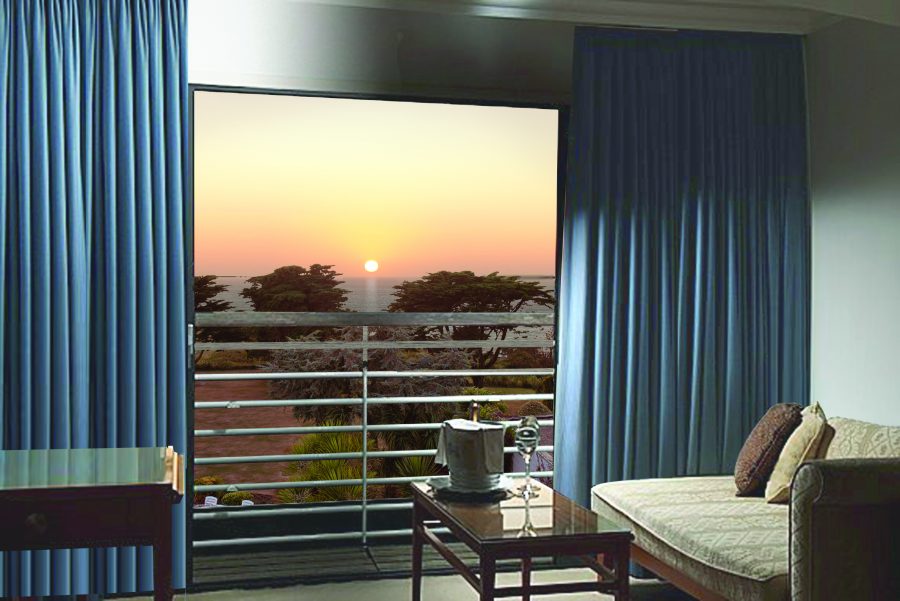 The hotel offers several options when it comes to accommodation, including Golf View Rooms and Garden Studios. But we stayed in two Ocean View Rooms with interconnecting doors.
The rooms were tastefully furnished, one with twin beds, the other a king-size sporting a contemporary oak headboard complementing the elegant oak and satinwood furniture. Conveniently positioned to take advantage of the fine views beyond the sliding balcony doors was a comfy chaise longue.
The well-equipped marble ensuite bathrooms come with Hans Grohe fittings and a decent supply of Molton Brown toiletries. In fact, it wasn't just the bathroom which was well-equipped, the bedrooms offered everything needed for a comfy stay, including tea and coffee-making facilities, satellite TV with sport, movie and kids' channels, bathrobe and slippers and free wi-fi. Other complimentary items included Hildon mineral water, a fruit bowl refreshed daily and a newspaper delivered to your door each morning. Although there isn't air conditioning in the bedrooms, a fan is provided. Alternatively, if you need a little bit of air, just pull back the balcony door and enjoy the fresh sea air.
The hotel ran like clockwork and the staff were highly efficient and welcoming. Everyone knew their job and was willing to provide advice: take the sommelier, who helped us choose the wine we enjoyed with dinner one evening, or the ever-smiling receptionist who showed us up to our rooml this was genuine service with a smile.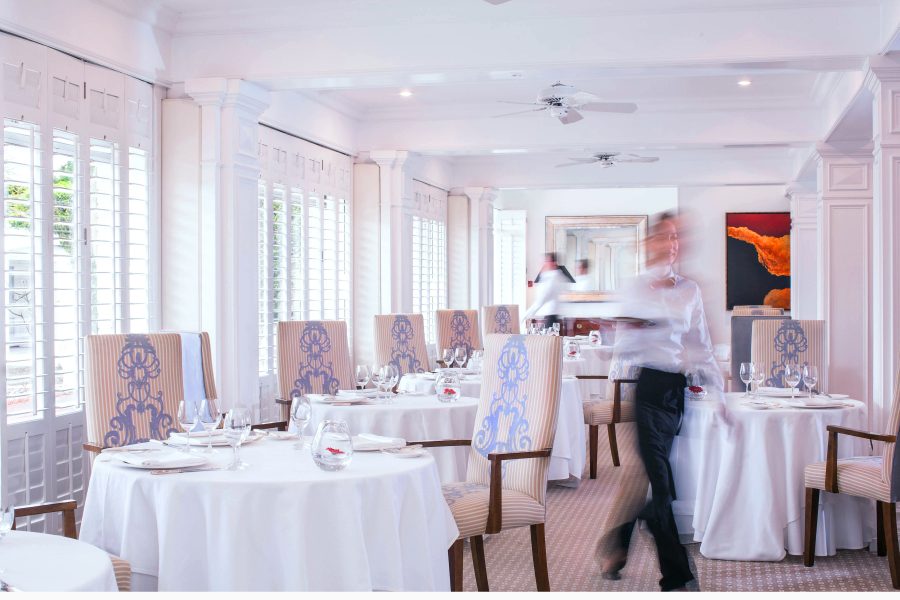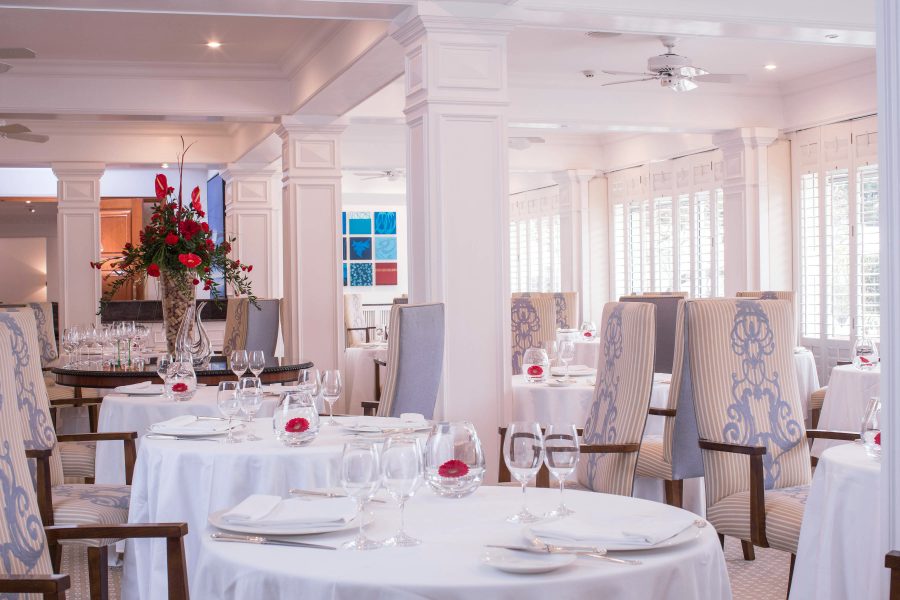 We enjoyed three breakfasts and one evening meal in the exquisite Ocean Restaurant which offers fine dining everyone can enjoy. Some hotels don't get fine dining restaurants right: yes, great food is dished up but they don't create an atmosphere where you can feel relaxed, particularly with children. Here, the waiting staff couldn't do enough for us and their main priority was to ensure we enjoyed our meal. When it came to the children choosing their dishes, they were happy to adjust the menu or provide specific dishes to accommodate.
Breakfasts were equally well organised. Before travelling to the island, I phoned the hotel to double-check they served soya milk in the mornings. It was jotted down on my reservation. Often, you have to ask for it each morning but, no, the staff here had a large jug on the table, ready for our arrival; it was an impressive and efficient-running restaurant.
Awarded a Michelin star for the eighth consecutive year, dining in this restaurant, with views across the lawn to the sea, is a delight. The muted colours are punctuated by splashes of aquamarine in the wall plaques, highlighting the coastal influences; we loved the intimate, contemporary feel of this restaurant.
During your stay, though, make sure you eat at the sister restaurant, Mark Jordan at the Beach, a smaller restaurant exuding a relaxed, casual atmosphere; and, yes, it is situated next to the beach, just outside St Helier.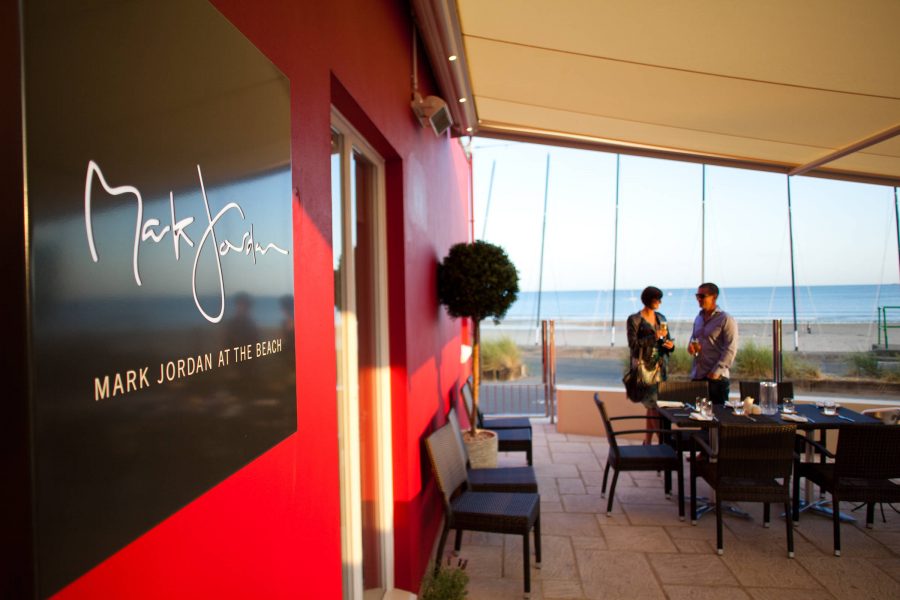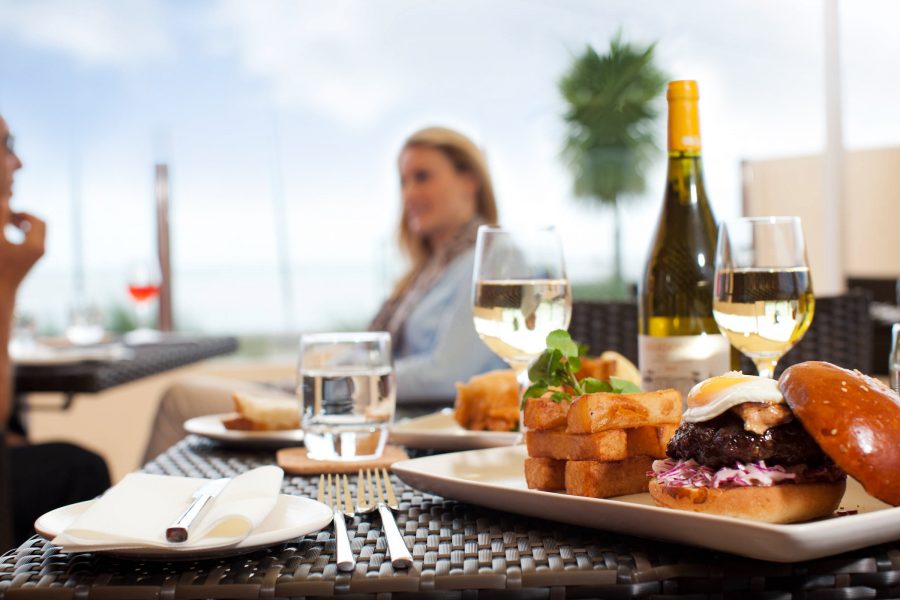 There is a wide choice on the bistro-styled menu and the restaurant's beach theme is enhanced by the wooden floors, rattan chairs and many seascapes painted by a local artist.
We were welcomed by Mark Jordan's friendly wife and attended to by a team of helpful staff. It was a very enjoyable lunch.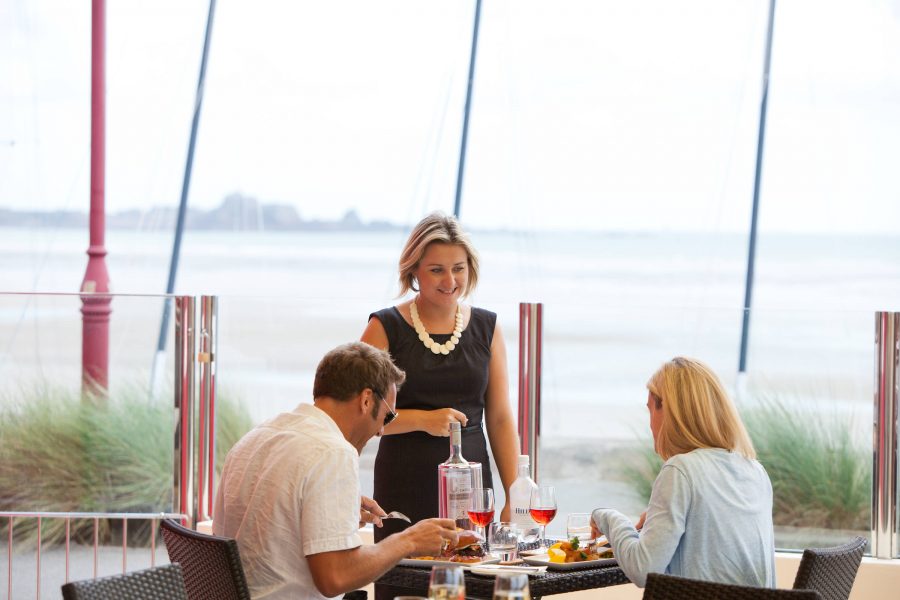 Back at the hotel, we spent much time just relaxing in the tasteful public areas. There are plenty of sofas and armchairs dotted around where you can rest while listening to the trickling water in the unusual water feature which comes with fish, too. The walls are adorned with more marine-influenced artwork and there are books and games for the kids.
Other times, we went for a swim. Although the weather was too inclement to sample the outdoor pool, we enjoyed swimming in the indoor pool (the water temperature was pleasantly warm) and trying out the hot-tub.
You can reach the island by air or by jumping aboard the recent addition to Condor Ferries' fleet, Liberation. This sleek vessel started operating under the Condor name in early 2015 and pre-assigned seating means there are no scrambles to find the best seat. Our seats were in Ocean Club and provided that extra bit of comfort needed on a sea crossing. Reclining chairs, tables to work on, complimentary papers, free drinks and a steward service if you wanted a meal from the restaurant resulted in an enjoyable trip to the island.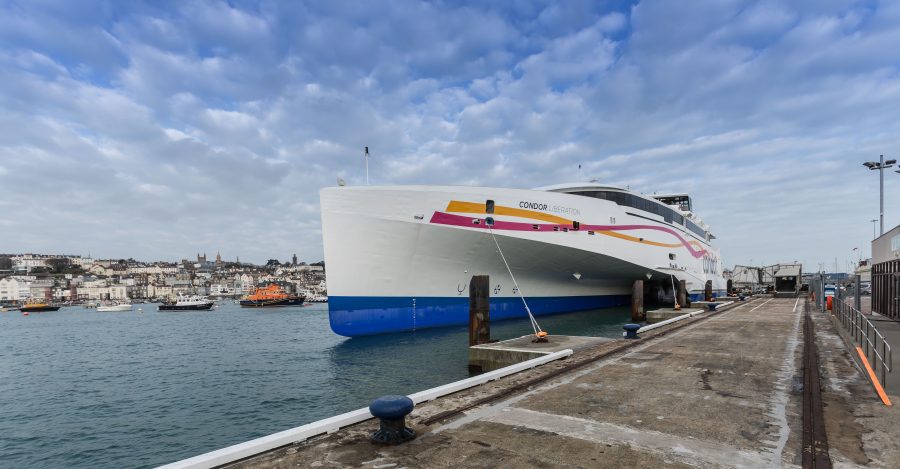 Jersey is brimming over with attractions, including historical monuments, numerous walking trails, pretty villages and a host of museums. Talking of museums, you'll be hard-pressed to find any as impressive as the Jersey War Tunnels at St. Lawrence. As the museum's leaflet explains, "It is an underground collection of thought provoking galleries detailing a dark time in island history."
That dark time is, of course, the Second World War and as you stroll through this labyrinth of underground tunnels, dug by slave workers during the five years of German occupation, the compelling story of life under German rule unfolds before you.
Everywhere you go, you'll find detailed information boards, intriguing photos, relics from the period and the chance to experience what life must have been like back then. We walked in to a realistic Anderson shelter and sound effects of overhead bombers and bombs exploding all around made us realise how terrifying it must have been during an air raid.
Another favourite part was discovering how the tunnels were built after years of back-breaking toil from the slave workers; recorded voices depicting men coughing and spluttering as they hack away at rock in near darkness added to the atmosphere.
This should be a definite on your itinerary because it's a well-organised, extremely informative museum. Opening times are 1st March-6th December, 10am-6pm daily (last admission to main exhibition at 4.30pm). There is a car park and overflow parking available (queuing for the car park can occur at busy times) plus a shop and café, offering drinks and light snacks, is also worth checking out.
If your time on the island is brief, one other attraction I'd highly recommend is the award-winning aMaizin! Adventure Park at La Hougue Farm, St Peter.
Open seven days a week (10am-5.30pm), the park's promotional material states that you should "bounce, race, swing and laugh your way round our indoor and outdoor activities, and take away magical memories you'll always treasure".
One of the park's main attractions is that dozens of activities are included in the entrance fee. So many places these days expect you to pay not only to get through the gate but for many of the rides and activities once you're inside. Not so at aMazin!.
Open since 2001, our favourite activities included taking the plunge on the Towering Toboggan, navigating our way through the maze (made from natural corn crops), go karts and the indoor play area. Okay, there aren't huge rollercoasters or nail-biting rides but, for us, that was part of the charm.
With the island measuring just nine miles by five, nowhere is far away in Jersey. All the island has to offer – and there is plenty – is easily reached from The Atlantic Hotel. It's close enough to everything you'll ever need in terms of entertainment or sight-seeing yet far enough away to enjoy peace and quiet.
At the end of our days visiting various corners of the island, I sensed a real need to return to the quietness of the hotel, to push open the balcony doors and to breathe in the sea air and admire the stunning view.
Two things are certain about our sojourn to the most southerly of the Channel Islands: I didn't want to leave this impressive hotel and I'd love to return some day very soon.
More information:
The Atlantic Hotel
Le Mont de la Pulente
St Brelade
Jersey JE3 8HE
www.theatlantichotel.com, tel: 01534 744102
Condor Ferries operates a year-round service to the Channel Islands from Poole with its fast ferry Condor Liberation, alongside a conventional ferry service from Portsmouth. Prices start from £59pp each way with a car.
www.condorferries.co.uk, tel: 0845 609 1024
www.jersey.com, tel: 01534 448800
www.jerseywartunnels.com, tel: 01534 860808
www.jerseyleisure.com, tel: 01534 482116
Reviewed:  August 2015