One thing you're guaranteed if holidaying in Guernsey is tranquillity. It's such a peaceful and unrushed island and, as Visit Guernsey's promotional material boasts, you'll "rediscover what life's about". Well, it's certainly what holidays should be about.
But for us – a family of four – the adventure began en-route to the island, which is nestled cosily in the bay of St Malo, close to the Normandy coast and yet just 70 miles from mainland Britain.
Just like our equally enjoyable trip to Jersey in 2013, for us the holiday started as soon as we stepped on board the Condor ferry and sunk into our comfy armchairs in Club Class. Of course, we still felt the movement of the ship on what was a rather choppy sea, but it just made the crossing more comfortable and pleasurable – especially as complimentary drinks are brought to your table and biscuits always available.
One of the biggest advantages of travelling across the channel with Condor Ferries rather than a conventional ferry is speed, reducing crossing times by at least half – definitely worth it, especially when you're travelling with kids.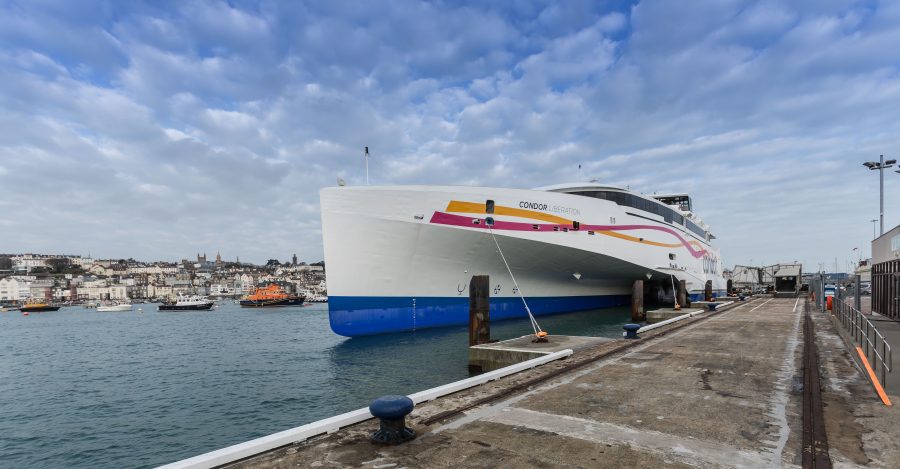 Condor offer three seating options: standard, reclining or Club Class. The standard and reclining seats look perfectly comfortable but nothing beats relaxing – sea conditions permitting – in Club Class for that extra touch of style and comfort; and for an extra £25 or so per person, per trip, it's well worth treating yourself – after all, you're on holiday!
The ferry has everything you need, including a play area for kids, shop and reasonably priced restaurant; if you're travelling Club Class and don't feel like venturing out to the restaurant, you can pass your order to the member of staff looking after you and they'll collect the meal for you – it couldn't be easier.
Guernsey itself is a delight. It's like turning back the clock and enjoying what old-fashioned holidays used to be about: the simple pleasures of seaside strolls, cliff top walks and wandering around pretty harbours without a care in the world. It's a destination which seemingly refuses – thank goodness – to get wrapped up in the hectic pace of the 21st century.
Despite being the second largest Channel Island, its size – just 24 square miles – means nothing is ever too far away, including your accommodation. For our three nights on the island, we stayed at Fauxquets Valley Campsite, recently awarded an AA 5 pennant. It's located slap-bang in the middle of the island, although a lack of signposts meant finding it became an adventure in itself!
It's a very family-friendly site with welcoming owners and all the amenities you could want, including a pizza van which turns up twice a week offering tasty treats. We stayed in a hire tent which was great because it saved us the hassle of erecting our own; plus, it was so well equipped that all we needed was our food. Tent 43 was a perfect location: close to the TV and games room, toilet and shower block and the large swimming pool. Some slabs around the pool were a little loose when we visited so take care; other than that, it was a pleasant site with plenty for our kids to enjoy, including a play area.
The campsite's central location means it's easy reaching any of the island's attractions – and there are plenty. Guernsey's military past is spotlighted at various sites, including La Valette, an underground military hospital, German Occupation Museum and the German Military Underground Hospital and Ammunition Store. First opened to the public in 1954, the underground hospital is the largest structural reminder of the German Occupation existing in the Channel Islands.
Other attractions we enjoyed included the Guernsey Aquarium, an intriguing display of marine life and reptiles housed in the historic La Vallette Tunnels in St Peter Port, the main town. Established in 1967, there are over 50 displays with the focal point being a pool containing species from local waters.
One morning, we drove to the Guernsey Freesia Centre, a three-acre site which displays award-winning flowers and a vinery. Apparently, the island is the leading supplier of freesias to the UK market; unfortunately, we visited at the end of August and a very hot summer so the floral display was well past its best. But we could appreciate that earlier in the season the colours must have been magnificent.
Nearby, Guernsey Candles is well worth visiting. You can watch candles being made or have a go yourself; as you'd expect, the shop sells a host of designs if your own creation doesn't turn out as you'd hoped!
Don't miss The Little Chapel, arguably the tiniest in the world. It was built in 1914 by Brother Déodat who wanted to create a miniature version of the famous grotto and basilica at Lourdes in France. It's attractively decorated with colourful pieces of broken china, shells and pebbles, resembling something out of a fairytale.
However packed your itinerary is, make sure you leave enough time to stroll around St Peter Port, looking around the shops and wandering along the sea front before heading up to Candie Gardens, dating back to Victorian times. Here, you'll find the Guernsey Museum and a permanent exhibition telling the island's story. It's a ten-minute uphill walk from the town but well worth it – especially as you can relax on the terrace at Café Victoria and enjoy coffee and cake while admiring the view.
Driving around the peaceful countryside is a must, too, and so is donning your walking boots to exploit some of the fine walking opportunities.
And then there's Herm – oh, what a gem. Lying three miles off the east coast of Guernsey, it measures just one and a half miles by half a mile and is home to a year-round population of only 60. You reach the isle via a 20-minute boat trip run by Trident Ferries.
The island is like a tiny speck of paradise. There are no cars or bustling crowds, just long unspoilt beaches, cliff walks and pure peace and quiet, interrupted only by the sound of the sea and birdsong.
We walked around the coast path before stopping off at Belvoir Bay and Shell Beach, so called because the sand consists of millions of tiny shell fragments. As the island's brochure states: "Castaway to an island of clear waters and golden sands, wild cliff paths and tended gardens…". It offers all of that and more – the same goes for Guernsey, too. There's so much to see and do, you'll always have to return to cover the things you didn't have chance to complete first time around.
More information:
www.visitguernsey.com, t: 01481 723552
www.condorferries.co.uk, t: 01202 207216
www.fauxquets.co.uk, t: 01481 255460 / 07781 413333 (2015 opening dates: May 1 – September 7)
www.fletchers-freesias.co.uk, t: 01481 248185
www.thelittlechapel.org, t: 01481 237200
www.traveltrident.com, t: 01481 721379
www.herm.com, t: 01481 750075