My 13-year-old daughter, Hollie, jumped for joy when I asked her to try out a Mi-Pac bag on our next visit to the Lake District. You see, the company's stylish backpacks are more than simply practical and durable bags: now they're regarded as fashion items, their ownership craved by kids and some adults alike.
The company's website states: "Our range of accessories are designed to express your personal style, through a wide palette of colours, patterns and fabrics. We are proud of our bags and continue to innovate with new and exciting designs each season." There's certainly a host of colours and designs to choose from – and that's just within the back pack category.
My daughter sampled the Bird Cord Back Pack which is described as a "tough and durable coated, woven cord construction…with a faux suede bottom. It features adjustable padded shoulder straps to the back and a top carry handle for versatile wear. It has a zipped front pocket and a large main compartment with an internal padded lap-top sleeve, perfect for all your school or work needs." Well, it's also suitable for general leisure purposes and walking the Lakeland Fells on a dry day, as Hollie discovered during our recent trip to Cumbria.
We decided to record the plus and minus points, although I must say there were very few of the latter.
The adjustable shoulder straps worked well and meant the bag wasn't constantly slipping off Hollie's shoulders. When she did remove it, the design and durability meant it stayed upright when placed on the floor – unlike my bag (not a Mi-Pac, I might add) which collapsed and constantly toppled over.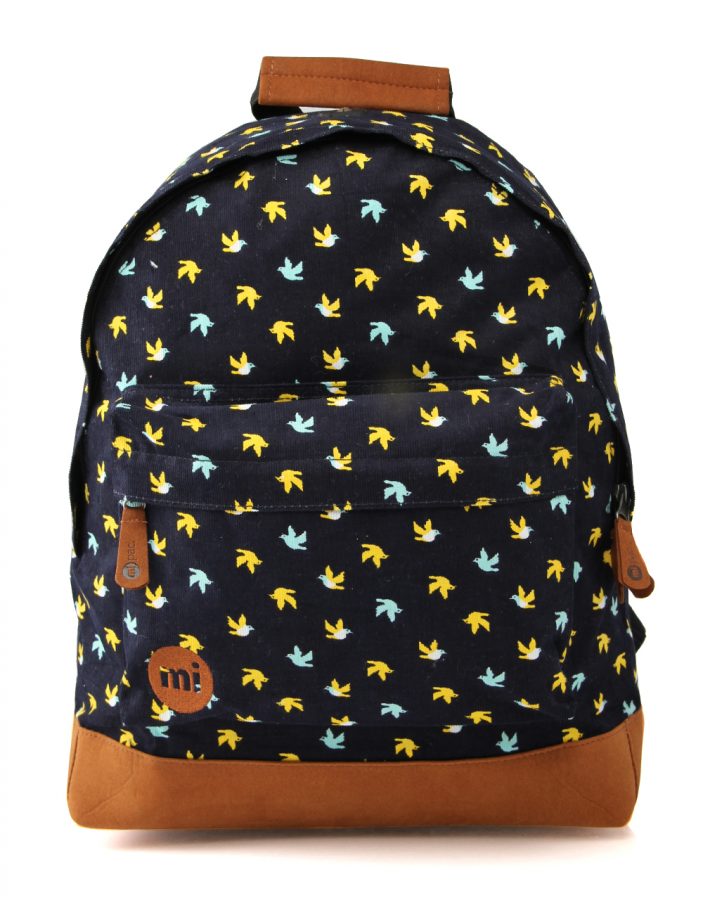 The large zipped opening made it easy to open and to insert or remove items from inside the bag. The interior is very roomy and divided into various useful sections.
Myriad designs and colours mean you're bound to find a bag to suit your taste.
When it comes to negatives, there were only two grumbles. Although there were separate sections inside, a few more zipped compartments would be welcome. Plus, a water bottle holder at the side would be useful, especially when you're out and about for long periods.
Overall, though, we were impressed with the Mi-Pac Bird Cord Back Pack and would recommend it to anyone. Its versatility means it can be used for a host of reasons, including school, work or leisure.
More information:
Mi-Pac Trading Ltd, PO Box 87, Badminton GL8 0AR