If you're on the hunt for an opulent, well-managed place to stay in the midst of Shakespeare's England, then consider the Ettington Park Hotel, just six miles outside Stratford-upon-Avon.
Surrounded by 40 acres of beautiful parkland, it's got lots to offer, including a tranquil rural setting. When all you can see are trees and huge swathes of lush countryside, it's hard to believe that Stratford, where The Bard was born and raised, is just down the road. But as well as the town and surrounding area, Ettington Park is ideally situated for exploring the Cotswolds and the rest of Warwickshire.
Furnished with elegant antiques and grand paintings, the hotel started out as a well-loved family home. During its more recent life, it's served as, among others, a nursing home, prisoner-of-war camp and nightclub. But behind the impressive mid-Victorian Gothic exterior greeting visitors today, lies a much deeper history; if you want more details, ask at the hotel reception for the fascinating eleven-page document – it makes interesting reading.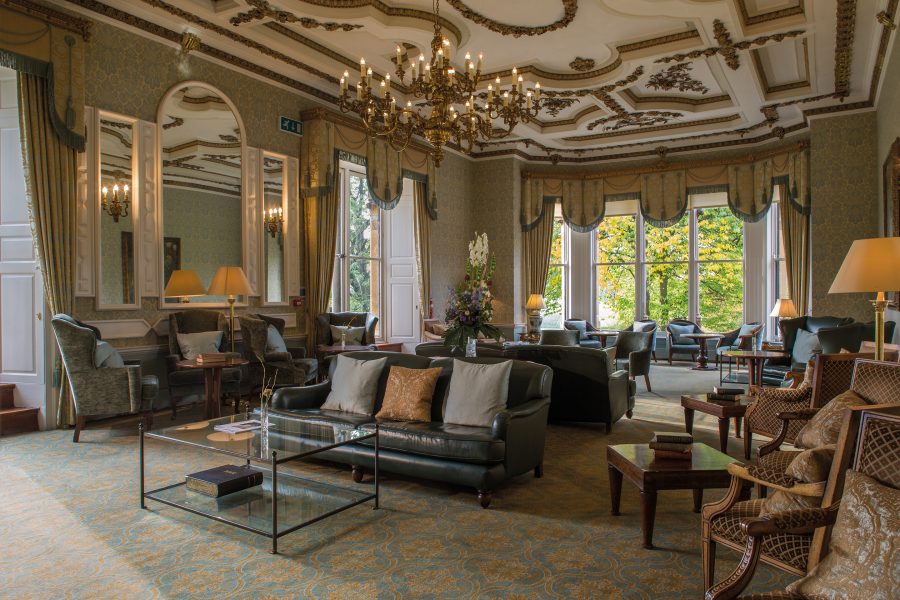 The hotel is reputedly haunted, although we didn't encounter any apparitions, thank goodness. Mind you, having the ruins of a 12th century church within the gardens adds to the atmosphere – especially on a moonlit night – for those attracted by this as a selling point.
Part of the Hand Picked Hotels group, formed in 2001 and comprising over 20 hotels, Ettington Park has several public rooms, including a wood-panelled dining room and large drawing room with intricately-designed plaster ceiling mouldings. As described on its website, the hotel is built from six types of Cotswold stone and decorated with "…friezes that trace its centuries of tradition and heritage. This is a country house where historic extravagance meets contemporary comfort."
Contemporary comfort is apposite when it comes to the 48 bedrooms. Well, I can at least vouch for Rooms 19 and 20 which have adjoining doors. My family and I stayed in these bedrooms and were perfectly happy with the classy look, feel and facilities. Okay, if I'm honest there were two little grumbles. First, lighting in the rooms was rather dull for our liking and, second, the style of hairdryer was annoying because you had to keep the power button pressed in to make it work. Anyone drying long hair can expect finger ache!
Overall, though, the rooms were comfortable and we enjoyed a good night's sleep, partly due to the comfy fibre pillows made exclusively for Hand Picked Hotels. The rooms contained everything needed for a pleasant stay, including flat screen TV, DVD player (there's a free DVD library in Reception), free wifi, iron/ironing board, tea/coffee-making facilities, free safe, trouser press and air-conditioning. In the bathroom, there was a bath and shower, quality cotton towels and decent toiletries produced exclusively by Gilchrist and Soames. Mind you, finding your bedroom in the first place is interesting. There are so many twists and turns in the corridors and a rather puzzling room numbering system that you won't be the first visitors to get a little lost!
Double bedrooms start from £130 while the handful of family rooms, all situated on the first floor, start from £148. We didn't sample any of the five split-level family bedrooms so can't comment but full details are available on the hotel's website.
We enjoyed using the indoor swimming pool, which is open 7am-8pm, seven days a week. Lockers and towels are free and, unlike in some hotels, the water temperature is very pleasant. The environment is, too, with a glass roof allowing light to flood in. For us, it was reassuring to see the depth was 1.2 metres – just right for our children, one of whom is only just gaining confidence in the water.
We enjoyed dinner in the Oak Room Restaurant one evening and breakfast on both mornings in the library, which is utilised when the hotel is busy. Keep your eyes peeled because through the windows you can sometimes spot deer roaming across the grounds.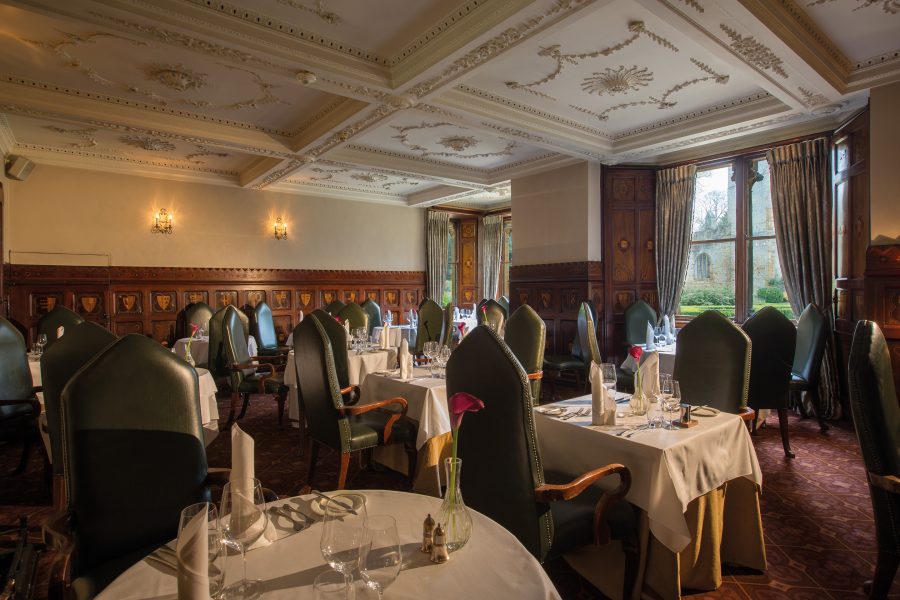 The staff in the restaurant – in fact, throughout the hotel – were always courteous, attentive and helpful. We happened to speak to the hotel's general manager, Jonathan Squire, during our stay and he was equally welcoming. His enthusiasm and desire to make visitors feel at ease is mirrored in his staff's approach to customer service.
Food dished up at dinner (served 7-9.30pm; 9pm on Sundays) and breakfast (7-9.30am Mon-Fri; 8-10.30am Sat, Sun and bank holidays) was excellent. An apposite example of the staff's desire to please could be found on our first morning. When a waiter discovered no more soya milk was available (we're a family of soya drinkers and pour it liberally over our cereal), we were informed a colleague was popping down the local shop to buy some.
My only comment regarding breakfast was that the buffet table, including cereals, fruits and a host of other delicious options, was positioned outside the restaurant in the Reception area. Perhaps it's a result of lack of room: whatever the reason, it seemed a bit strange but, hey, it didn't detract from an enjoyable start to the day.
If you're feeling energetic, you can spend ages wandering around the grounds. Alternatively, hire a bike from the hotel (£5 an hour; £15 all day) and explore the local area.
But one of the hotel's selling points, as previously mentioned, is its proximity to Stratford-upon-Avon. Any visit to the town should include the various Shakespeare properties, including the great man's birthplace, Nash's House and Mary Arden's Farm. But don't think that it's all Stratford has to offer.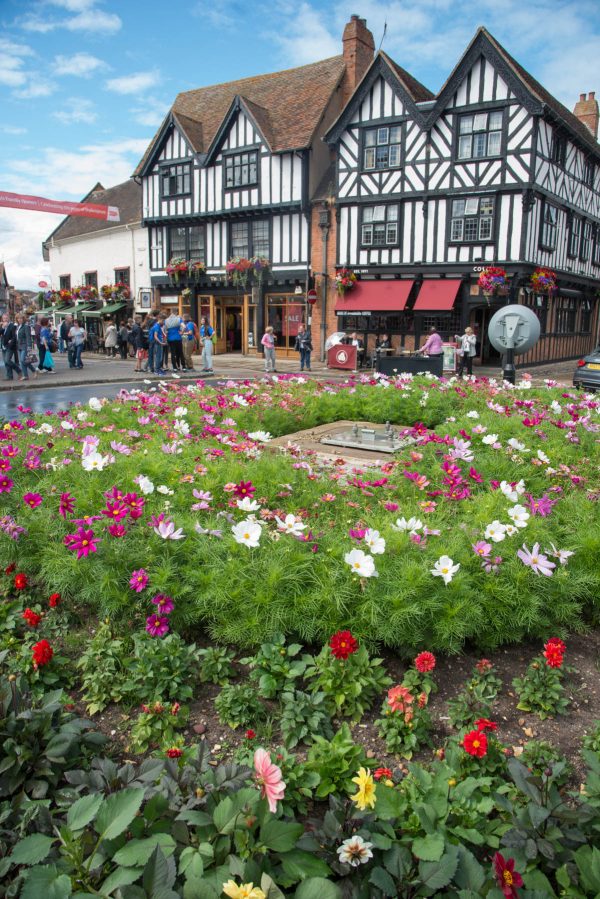 Take to the water by jumping aboard Canal & River Tours' Jennifer May for a 45-minute cruise along the River Avon (adults £6, children £4; family ticket £17.50 at time of visit). Regular departures from the historic canal basin, in the heart of Stratford, afford you the chance to sit back, relax and enjoy being on the only sightseeing boat licensed to go through the historic canal lock onto the Avon. Plenty of large windows mean everyone gets a good view while listening to the audio commentary.
You can take your own refreshments aboard so why not pick up a baguette and cup of tea, like we did, from Waterside Food by Seven Mile? Staff in the blue-painted barge moored nearby sell lots of delicious snacks cooked daily in the onboard galley.
Once back on dry land, you could hop on Stratford's red double-decker offering interesting sightseeing tours between March and October. You can get on and off at any of the 11 stops, including Shakespeare's birthplace, Hall's Croft, Anne Hathaway's Cottage and Mary Arden's House. Alternatively, just go for the ride (the circuit takes approx. one hour) and listen to the informative commentary. A 24-hour family ticket costs £31.
Don't leave Stratford without visiting the Butterfly Farm. Promoting itself as the "UK's largest tropical butterfly paradise", it's minutes from the town centre and a must for anyone's itinerary. While there is on-site parking for disabled visitors, other car drivers should opt for the pay-and-display area just outside the entrance. Entering the Butterfly Farm is like stepping into a tropical rainforest. The humid air is awash with colour as hundreds of the world's most beautiful examples fly around you.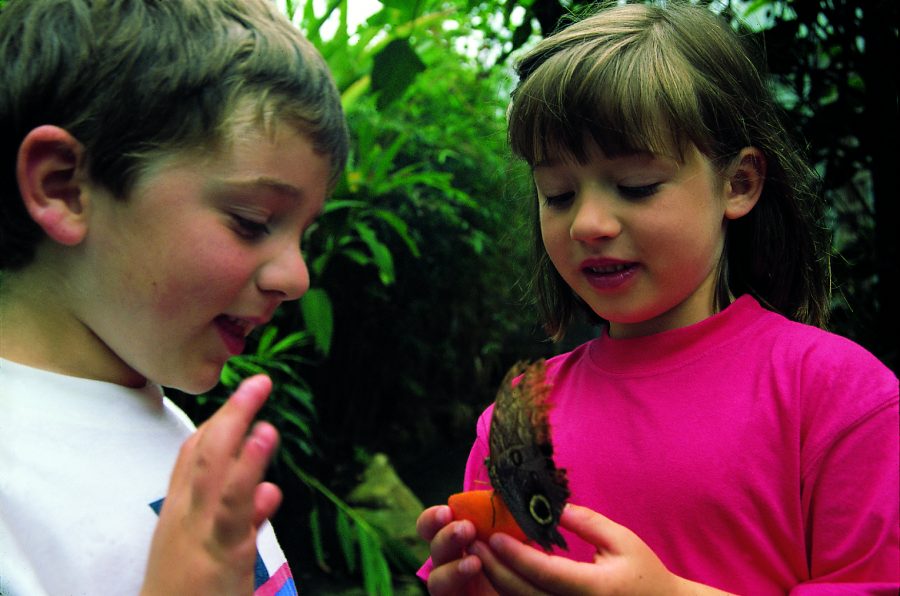 The miniature world inside the building is full of fish-filled pools, bubbly waterfalls and exotic plants. There is also a Caterpillar Room spotlighting the butterfly's fascinating lifecycle: here, you'll see a selection of large and camouflaged caterpillars, together with cocoons and silk moths.
The Butterfly Farm also claims to have the largest live insect display in the world. I can't comment on that but can confirm that there are enough on show to interest adults and children alike. We particularly enjoyed seeing the ant colony; some were even running along overhead ropes above our heads!
Another must-see attraction within easy reach of the hotel is the British Motor Museum. Situated in Gaydon, just off Junction 12 of the M40, a family ticket (2 adults, 3 children) costs £39. And this is one museum where I'd say the entrance fee was worth it, especially if, like me, you love seeing all those cars you remember from your childhood.
The museum's information leaflet claims that you'll see the "world's largest collection of historic British cars in our newly refurbished museum". Head off along the Time Road and you'll be turning back the clock as you get up close to vehicles from past decades, including the Austin Metropolitan and Austin A40; there are also several prototypes on display, as well as lots of information boards, videos and interactive exhibits. When you're in need of refreshments, head for the onsite café.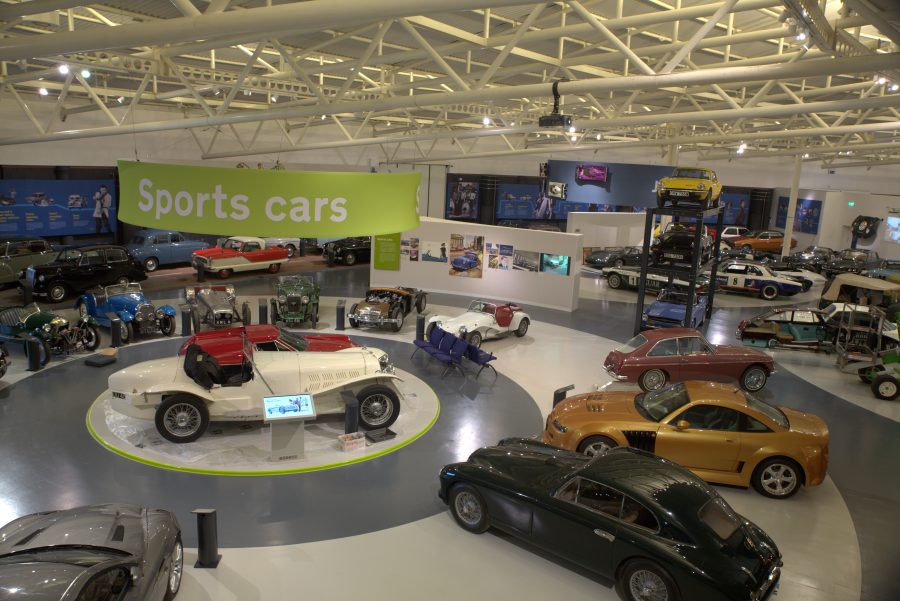 But don't leave before popping across to the new Collections Centre. Here, around 250 cars from the museum's collections fill the hall. You can even take a peek at the engineers restoring the vehicles from the overhead viewing platform. You don't have to be a full-blown motoring enthusiast to enjoy visiting the museum.
More information:
Ettington Park Hotel, www.handpickedhotels.co.uk/ettingtonpark, tel: 0845 072 7454
Butterfly Farm, www.butterflyfarm.co.uk, tel: 01789 299288
Stratford-upon-Avon City Sightseeing Bus Tour, www.citysightseeing-stratford.com, tel: 01789 412 680
Macdonald Alveston Manor, www.macdonaldhotels.co.uk/our-hotels/alveston, tel: 0344 879 9138
Canal and River Tours, www.canalandrivertouris.com, tel: 01789 295173
Waterside Food by Seven Mile, www.sevenmile.co.uk
British Motor Museum, www.britishmotormuseum.co.uk, tel: 01926 641188
For all the latest news and information about attractions, things to do and places to stay in and around Shakespeare's England, visit the official website, www.shakespeares-england.co.uk
Reviewed: March 2016[/fusion_text]