Our first taste of an HF Holidays' family walking adventure was at Derwent Bank, a picturesque location on the shores of Derwent Water in the Lake District. The short break excelled expectations and led to my two children coining the phrase, "Happy Family Holidays", whenever I mentioned HF.
 Fast-forward nearly 12 months and I'm pleased to say that holidaying with HF – as the company is affectionately called by its loyal band of customers – remains just as enjoyable. I say this with conviction because we've just returned from our second family walking adventure, this time at the company's imposing Georgian mansion, Larpool Hall, on the outskirts of Whitby, and a great time was had by all!
HF Holidays, arguably the UK's largest walking and leisure activity holiday provider with over 100 years' experience, know how to pick their country properties, from which self-guided, guided and family walking weeks/short breaks are offered. With around 20 houses dotted around the UK, each has its unique charm – and Larpool Hall is no exception. This Grade II listed building dates from the 1780s and sits amid extensive grounds above the coastal town.
The Yorkshire resort is not only famous for providing inspiration to author Bram Stoker when writing his Gothic novel, Dracula, but is where Captain Cook learnt to be a seaman. More recently, the town was frequently used for location filming in ITV's much-loved series, Heartbeat.
Larpool Hall's mature grounds offer plenty of space for children to play. My two kids enjoyed the fact there was a lot of outdoor play equipment they could use, including cricket sets, footballs, badminton racquets and rounders bats. Some children took advantage of the abundance of shrubs and trees to play hide-and-seek.
During our stay, the weather was inclement occasionally but it didn't mean there was nothing for young ones to do. Inside the house, the spacious lounge contained a plethora of toys, games and activities, including table tennis, mini bowling alley, board games, drawing paper – everything you could think of. Also, being a family week, there were always activities and games arranged for after dinner which could be enjoyed by adults and children alike. One evening, we played beetle drive, another time a feely bag game, then a talent contest and other activities; but what I liked is that at no time was there pressure to participate. If you wanted to sit, relax and watch everyone else play the games, you weren't made to feel anti-social.
The same applied to the walks on offer each day: every evening, just before dinner, the group leaders described the various walks being offered the following day. Usually divided into family walk, easy walk, medium walk and hard walk, you were informed what to expect in terms of route, mileage, ascent and attractions en route. It was then up to each individual to sign up for the walk of their choice; again, if you decided to walk independently or take the day off and relax, no pressure was applied to encourage participation.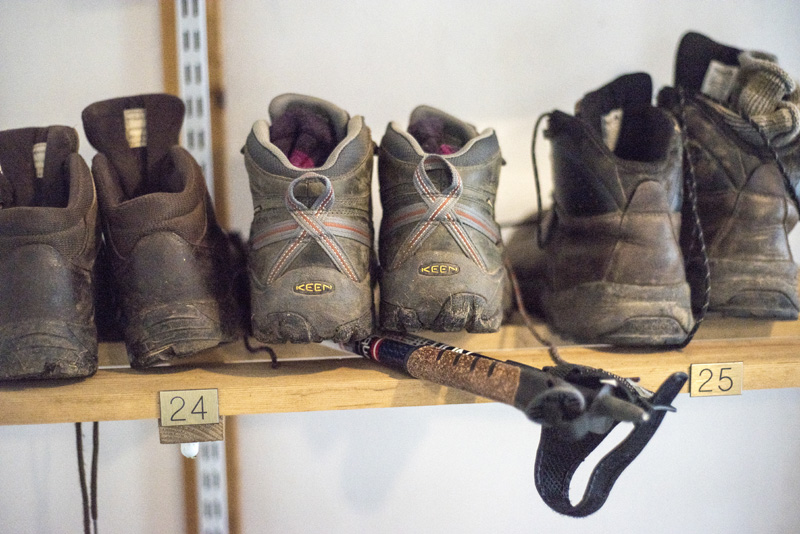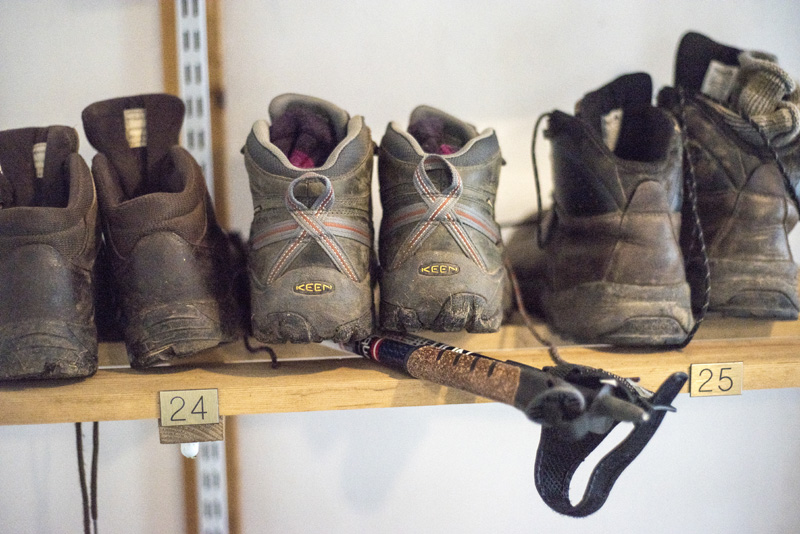 The HF leaders, all volunteers, were experienced walkers and in the majority of cases knew the region well. All extolled the requirements needed to lead on such a holiday, including possessing a sense of humour! Overseeing most of the children's activities during the week was Christine, a primary school supply teacher and experienced HF leader. She was excellent and seemed to possess a wealth of ideas and resources whenever kids were at a loose end and looking for something to do; but all the leaders were approachable and mingled with guests.
In terms of the permanent staff at the house, we dealt mostly with Sally, the assistant manager whose background includes running award-winning pubs. Always wearing a smile on her face, she made us welcome from the moment we arrived and nothing seemed too much trouble; in fact, the entire staff were helpful and keen to make our holiday run smoothly.
One thing I liked was the staff's attention to detail when it came to dietary requirements. As a family of soya milk drinkers we use it each morning on our breakfast cereal. It wasn't long before a big jug was placed on our table every morning, saving us having to ask. Also, one evening before retiring upstairs, I asked the barman for some soya to make a cup of tea in my room. Thereafter, he asked me each evening whether more milk was required.
Anyone who has chosen an HF holiday knows that dinner is served at a set time each evening with everyone sitting down together. Although some people might find this a little daunting at first, it's a good way for guests to get to know each other.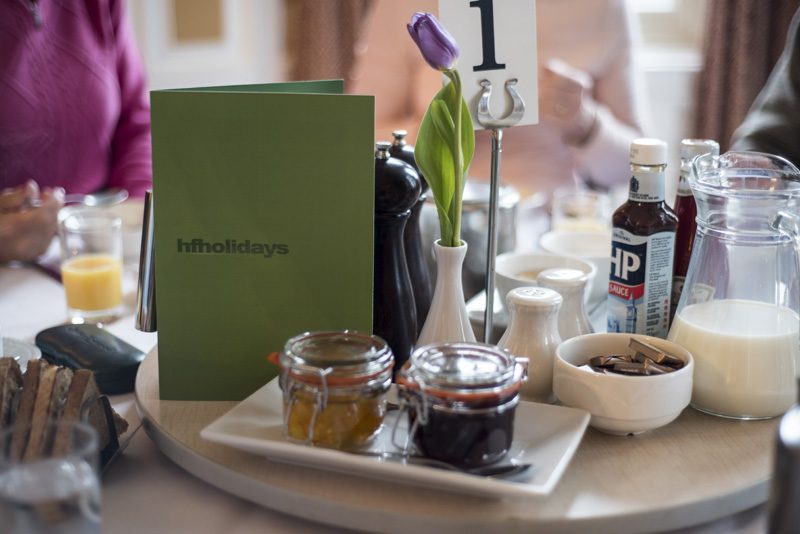 You're well looked after at a HF country house. Prices include full-board and during 2016 HF are running a great offer with children under 11 going free while those aged 11-17 get 50% off.
At every house, a full breakfast is followed by an appetising packed lunch, so all you need to think about is the walk you're planning that day. Sandwiches are ordered the night before so in the morning it's just a case of picking the other items for your lunch bag – and what a selection there is to choose from. My only comment, the same one I submitted after our stay at Derwent Bank, is that sandwiches are packed in plastic containers rather than cling film. Once you've finished your lunch, you have to carry around an awkward container in your rucksack or find a bin (not always possible on a country walk); with cling film, you could just screw it up and keep it inside your walking bag. If your rucksack is anything like mine, space is at a premium so unnecessary bulky items aren't welcome.
You select your evening meal the night before, too, although alterations can be made the following morning. The menu is placed outside the office and you simply indicate what dishes you want. Being a family of veggies, the choice is more limited but we were able to opt for a jacket potato with a filling of our choice if there was nothing we fancied on the menu. Alternatively, we were able to ask the chef to alter a dish if there was a particular ingredient we didn't like (this was requested on a meal request sheet); the catering staff always did their best to meet our needs, although the alterations weren't always possible.
But what worked well for us is that we met the chef soon after arriving at Larpool. It was reassuring to discuss our likes and dislikes and know the catering staff would, wherever possible, prepare appropriate dishes. Overall, the evening meals were tasty and removed the hassle of finding suitable restaurants elsewhere; to be honest, after being out-and-about all day, perhaps conquering some lung-busting hill or lengthy coastal walk, it's nice to return to the hotel, relax in the garden and know that you don't have to venture out again later on.
Larpool Hall retains many of its historic features with the public rooms in particular reflecting the property's 18th century character. If you're thirsty, a licensed bar is open at set times during your stay. In terms of bedrooms, we were allocated two ensuite rooms a short distance apart. Both were tastefully decorated and offered everything needed to make our stay comfortable, including tea/coffee-making facilities, TV, hairdryer and full set of toiletries. The Hall is accessible to wheelchair users via level access at the rear of the building. There is one bedroom specifically designed for wheelchair access while other ground floor rooms are available for guests with restricted mobility.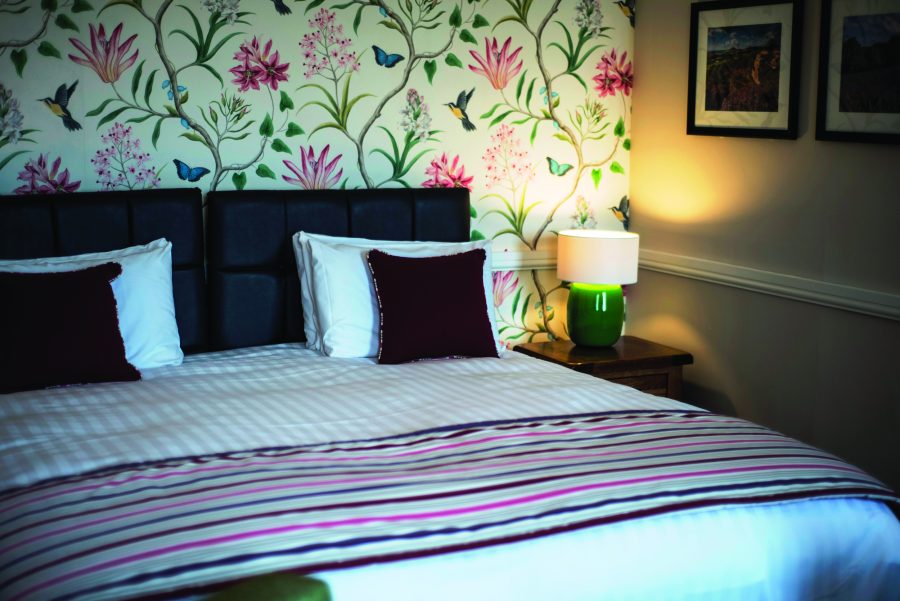 When it came to choosing our walks, we took advantage of the wild, expansive North York Moors being right on the doorstep and explored this area extensively. Our favourite walk took us to the top of Roseberry Topping, near Great Ayton, one of the most prominent hilltops in the region. Equally enjoyable was walking along the coastline, wandering around the narrow cobbled streets of Whitby and visiting quaint coastal villages like Robin Hood's Bay, five miles south of our base.
Overall, we thoroughly enjoyed our stay at Whitby and liked the warmth bestowed upon guests the minute they walked through the door. HF is a long-standing holiday company but despite the company's longevity, it hasn't been resting on its laurels and is always searching for ways, however seemingly inconsequential, to improve. Based on our time at Whitby, I can only think of a couple of suggestions: as already mentioned, swap plastic sandwich containers for cling film and consider increasing the number of meal options for vegetarians and vegans. That aside, I'd definitely recommend people try an HF holiday – you'll be back for more!
More information:
Larpool Hall, Larpool Lane, Whitby, North Yorkshire YO22 4ND
www.hfholidays.co.uk, tel: 0345 470 8558 (01947 602737 for the Hall).
For more information about attractions in and around the area, visit the official tourism website for Yorkshire, www.yorkshire.com
Note: If you're planning to explore the surrounding area independently while at Larpool Hall or just want to appreciate the route you're taking on your guided walks, arm yourself with OS Explorer maps 26, 27 and 301. You'll also get a free mobile download with any new map you buy.
Reviewed: March 2016