We spent a couple of days visiting Poole and exploring the coastline west of the town. Here are our five family-friendly things to do or see…
Poole Park
Conveniently positioned within walking distance of Poole town, this attractive park is an ideal place to relax. Onsite parking is available although vehicular access is prohibited between 6am and 10am, Mon to Sat.
Having been granted a Heritage Fund grant from the National Lottery in 2017, the park is currently undergoing improvement works so during our visit some access was restricted although this didn't detract from our enjoyment.
Set within 110 acres, the park and its lagoon provides a great habitat for its resident swans, ducks and geese; improvements being made – courtesy of the heritage grant – are set to make this even better.
The park offers something for everyone: for the more energetic there are pedaloes, tennis or you might want to challenge the kids to a game of crazy golf. For something more sedate, simply stroll along the lagoon shore before stopping off at one of the cafés/restaurants for a bite to eat or a leisurely coffee.
Swanage
Forming part of the Jurassic coast, and England's only natural World Heritage Site, Swanage can be reached from Poole via Wareham in approximately 25 minutes. Alternatively, the Sandbanks' chain ferry offers an attractive shortcut, at £4.50 per car. However, it can be busy at peak times.
Arriving around 9am on the day of our visit in August, we were pleasantly surprised to find free, unlimited parking just a stone's throw from the beach. If we hadn't been so lucky there were, however, plenty of alternative paid car parks nearby.
The beach itself is very appealing with a large stretch of golden sand backed by colourful beach huts and promenade. With a designated safe bathing area monitored by lifeguards, it's a good place for families.
The town itself is compact with plenty of shops and cafés to enjoy. If you fancy a bit more of a walk, head off in either direction along the beach. With the South West Coast Path passing through Swanage the walking opportunities are plentiful.
Approximately three miles walking to the east brings you to Old Harry Rocks. A group of dramatic stacks produced by erosion of the chalk cliffs, this stretch of coastline was once part of a ridge linking with The Needles on the Isle of Wight.
Alternatively, if you head west you can climb to Peverill Point, site of the local coastguard look-out station, affording stunning views of the coastline. In the distance, you'll catch sight of Durlston Head Castle and Visitor Centre which can also be reached further along the coast path.
One additional highlight in the area, and something we'd like to experience during a later visit, is the Swanage railway. This pretty 12-mile round trip takes you through the Purbeck countryside and picturesque Corfe Castle – definitely something for the "to do" list when you're in the area.
Lulworth Cove and Durdle Door
Within the World Heritage Site this area is very important geologically with Lulworth Cove and the amazing rock formations of the Lulworth Crumple forming an almost perfect circle, where sedimentary rocks have tilted and twisted through erosion over millions of years.
This stretch of coastline is always popular and the two main car parks at Lulworth and Durdle Door can become overcrowded. We visited towards the end of the day and found it a more pleasant experience, although check car park closing times.
Lulworth Cove has a pretty approach with a selection of cafés on the way to the shore. To learn more about the geology of the area, head for the Visitor Centre at the main car park.
After a welcome cream tea we strolled along the many footpaths circling the cove for a bird's eye view in order to truly appreciate the shape of the rock formations.
Durdle Door can be reached on foot easily from Lulworth Cove although, if you take the coast path, there is a rather steep incline at the start so sturdy shoes are recommended. The distance is about a mile but the views are fantastic. If you'd rather drive, there is a large car park at Durdle Door but you'll still need to walk some distance down the coastpath to see the arch.
Rather than retrace our steps back to Lulworth, we took a footpath which heads slightly inland from the back of the car park, eventually arriving halfway between the Cove and West Lulworth.
Brownsea Island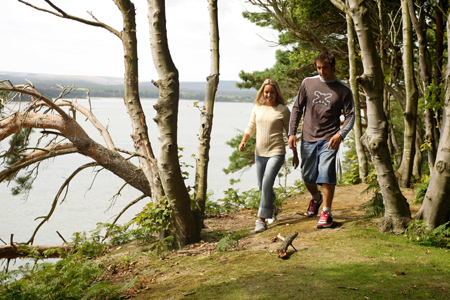 From Poole Quay you can catch the small ferry across to the National Trust's Brownsea Island, just a short boat ride away from the quay.
One thing I love about islands is their isolation. However near they might be to the mainland – and Brownsea is very close – there is always that feeling of being in a different world, away from the hustle and bustle of mainstream living. Although tourists flock here, especially spring and summer, there is a real sense of tranquillity. Despite being tiny – just 1.5 miles by 0.75 – there are still plenty of moments when it feels like just you and the island.
The 500 acres of woodland, heathland and salt marsh are a haven for wildlife. It's one of the few places in southern England where you can spot red squirrels; it was well into our adventure on Brownsea before we spotted our first, scampering away into the woods, but what a delight.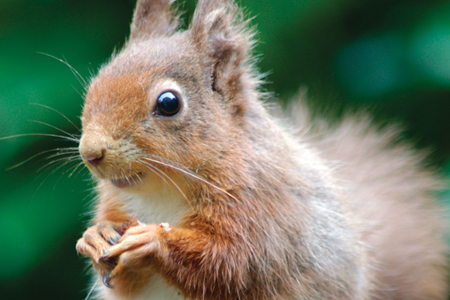 Baden-Powell hosted the first Scout camp on the island in 1907 and I'm sure they would have enjoyed themselves as much as we did. The island has a gift shop, information centre, café, a nature reserve (managed by Dorset Wildlife Trust) and acres of beautiful countryside, home to not only squirrels but peacocks, deer and plenty of birds.
Sandbanks
This peninsula west of Poole is regarded among the best beaches in Britain. It has been awarded a Blue Flag for many years and its sand is soft and golden. It's no wonder Sandbanks attracts the rich and famous, many of whom have made this corner of Dorset their home, as shown by the rather spectacular houses edging the shoreline.
This is another spot which can be very popular in summer with parking sometimes difficult, so it's definitely worth planning your visit.
You could easily spend the day here with children's play areas, cafés along the promenade and a selection of water sports on offer in the safe shallow waters of adjoining Poole Harbour.
If you want to travel further afield why not hop on the Sandbanks chain ferry to Studland (£1 single for a foot passenger) and spend a few hours exploring the unspoilt nature reserve of dunes and heathland.
WHERE TO STAY
Poole Travelodge 
Ideally situated for exploring Poole and the surrounding area, the Travelodge is located next to the large Asda store on the edge of town. It has its own designated parking (free for 24 hours from your time of arrival) but spaces are limited and sometimes it can be tricky finding a space.
The hotel's position allows you to easily explore Poole on foot with the town, quay and Poole Park just a few minutes walk away.
The Travelodge is very modern and we were glad to see it included a restaurant where breakfast could be purchased. Although the current Covid-19 situation meant the usual buffet style wasn't possible, we were impressed with how the hotel is coping with the new guidelines and enjoyed our breakfast just as much as usual.
A very relaxing stay and definitely a convenient base for a break in this area.
For more information:
www.travelodge.co.uk, tel: 08719 848484
Date: August 2020