Nestled among the lush green folds of South Devon's landscape is a real gem of a holiday park. Family-owned for over four decades, Cofton spreads over 80 acres of this delicious countryside, offering not just holiday home breaks but self-catering cottages, too.
We were lucky enough to sample a recent arrival on the park: the Fernworthy four-berth holiday home with hot tub. We had a whale of a time in this spacious two-bedroom unit which contained all the equipment needed for a comfortable break, including large flatscreen TV, blu-ray player, microwave, two bathrooms and a dishwasher.
Being able to park our car alongside the holiday home was a major plus while the unit's setting afforded us wonderful views. The park is located within a small valley and from our accommodation we looked down on the main reception buildings, restaurant, outdoor and indoor pools and up towards the caravans and tents situated on the opposite side of the valley. Many an hour was spent on the balcony, simply relaxing while admiring the expansive views.
Overall, there are around 450 touring caravan/camping pitches, 72 static caravans, five cottages on-site and 12 off-site – so you can see, it's not an insignificant site. Yet despite its size and the fact it was relatively busy when we stayed, the park exuded a sense of tranquillity. It was full of couples and families, just like us, but the atmosphere was relaxed while the staff were always smiling and couldn't do enough to help.
If we weren't resting on our balcony, we were trying out the hot tub; it was a lovely bonus to have this alongside our unit. And if we weren't giving our tired limbs a bit of TLC in the bubbling water, we were exploring the rest of the site. Often when we visit holiday parks, we're out and about visiting the local area most of the time; although we did our fair share of this again, we enjoyed spending more time than usual back at our holiday home or making use of Cofton's many facilities.
The outdoor pool is seasonal (May-Sept, approx.) and was out of action when we visited but taking a dip in the indoor pool (open all year) was a delight, especially as the water temperature was always just above 30 degrees! It's not often you visit a holiday park's pool and don't shiver so it was a real pleasure for us to swim at Cofton.
Among the other facilities and attractions are a fish & chip shop, general store, plenty of eateries, play areas, woodland adventure area (including zip wire) and organised activities. We tried out zorbing, which involves rolling along in a giant plastic ball, and it was great fun. Hollie and Peter also enjoyed visiting the donkeys and pony who roam around their paddock on one side of the valley.
Although we would have willingly stayed at the park for the duration of our break, we couldn't throw away the opportunity of exploring this corner of South Devon. So we popped down to the coastal towns of Dawlish and Teignmouth plus Shaldon, a village sitting on the south bank of the River Teign estuary, opposite Teignmouth.
After strolling around Dawlish Warren, home to impressive sand dunes and over 500 acres of nature reserve, we headed into town. Dawlish is a charming place with an attractive park – boasting colourful flowerbeds, palm trees and a brook tumbling over mini-waterfalls – running through the heart of the town.
Meanwhile, nearby Teignmouth, three miles down the coast, is the setting for the upcoming Colin Firth movie, The Mercy. It's easy to see why this quintessentially British town was chosen. It boasts not only a pretty sea front with traditional promenade, but plenty of shops and a pier, although, sadly, much of this was closed when we visited.
After exploring Teignmouth, we jumped aboard the foot ferry and crossed the estuary to Shaldon. We walked through Smugglers' Tunnel – reputedly an original – to secluded Ness Cove; at the base of the magnificent Ness Headland, it's sheltered by the cliffs above.
Peter and Hollie enjoyed mucking around on the beach and paddling until our stomachs started telling us that it was time for lunch. There are countless eateries to choose from around here, but you'll struggle to find a better restaurant with a view to die for than ODE & Co., Coast View. It's situated, appropriately, at Coast View Holiday Park, on the outskirts of Shaldon. The clement weather meant we could sit outside in order to fully appreciate the view of the English Channel.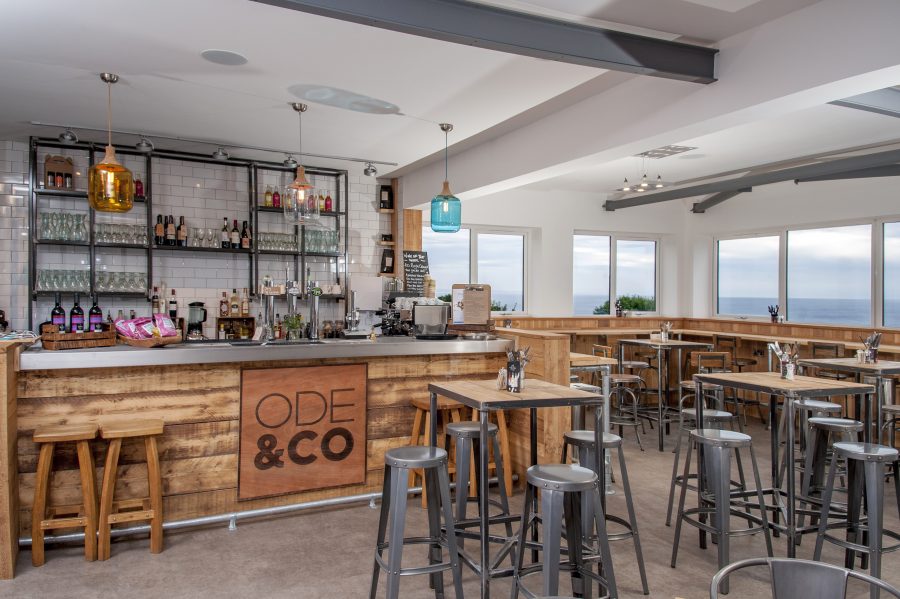 With a reputation for quality food and fine service, ODE is owned by award-winning chef Tim Bouget. We opted for delicious sour dough pizzas cooked in wood-fired ovens – oh, they were scrummy!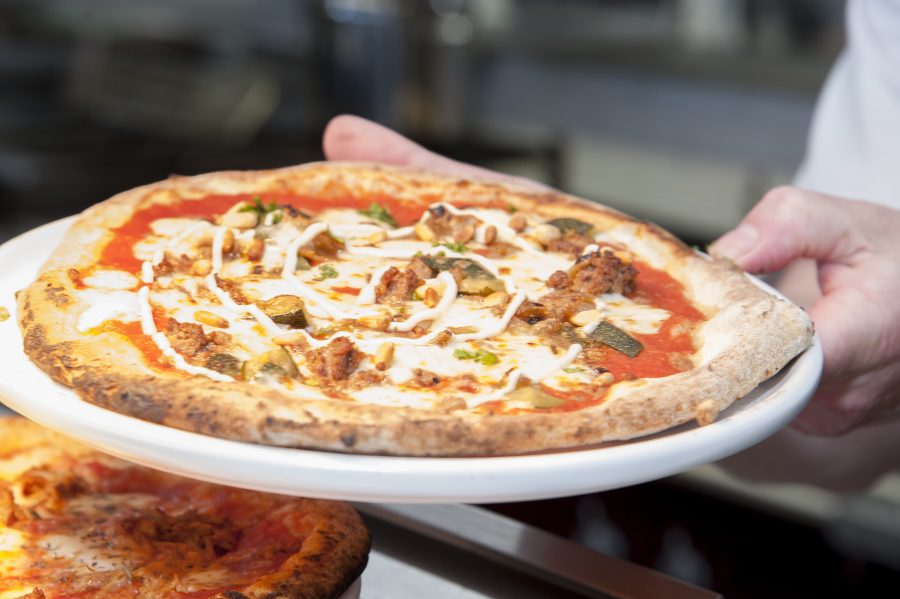 Tim runs several cafés and restaurants in the area and we had the chance to meet him at Coast View. A relaxed, amiable guy, he told us that dishes can be modified to suit one's taste – being vegan myself, that was nice to hear; it was also reassuring for us as a family because, as we all know, kids don't always like all the ingredients within a particular dish.
We could have stayed all afternoon, soaking up the rays, but time was ticking on and this was our last day. There was just one more place to visit before returning to Cofton and that was impressive Powderham Castle.
The family home of the Earl & Countess of Devon, it's set amid a beautiful deer park on the banks of the Exe estuary. Dating from the 14th century, the castle and its beautiful gardens (the Rose Garden is a real picture when the flowers are in bloom) can be explored via guided tours, ideal for those wanting to learn about the property's long history.
But it was such a splendid day, we spent our time exploring the gardens and surrounding grounds as well as heading to Pets' Corner within the Walled Garden to see the tortoise, lambs, pig et al.
Free parking was a plus point at Powderham Castle and it should be on your itinerary if visiting this corner of Devon.
All too soon, we had to wave goodbye to Cofton. It's an outstanding holiday park with much to offer its visitors. Plus, of course, when you venture beyond the park itself, you have the fine South Devon countryside and coast to explore. We highly recommend the region and holiday park and hope to return soon.
More information:
Cofton Holidays
Starcross
nr Dawlish
South Devon EX6 8RP
Tel: 01626 890111
Other useful links:
Visit South Devon www.visitsouthdevon.co.uk
Powderham Castle www.powderham.co.uk
Reviewed: April 2017