Cornwall has many plus points when it comes to enjoying a family holiday. One is that wherever you decide to base yourselves, you're never far from any of the county's attractions. Another is that there are countless things to do so it can be difficult deciding which ones to fit into your itinerary. So we've tried to help you by selecting five of our favourites, although must point out that there are many more we could have included. But, I guess that's one of the beauties of holidaying in Cornwall, there's never enough time to experience everything in one visit so it gives you a good excuse to revisit time and time again…
BLUE REEF AQUARIUM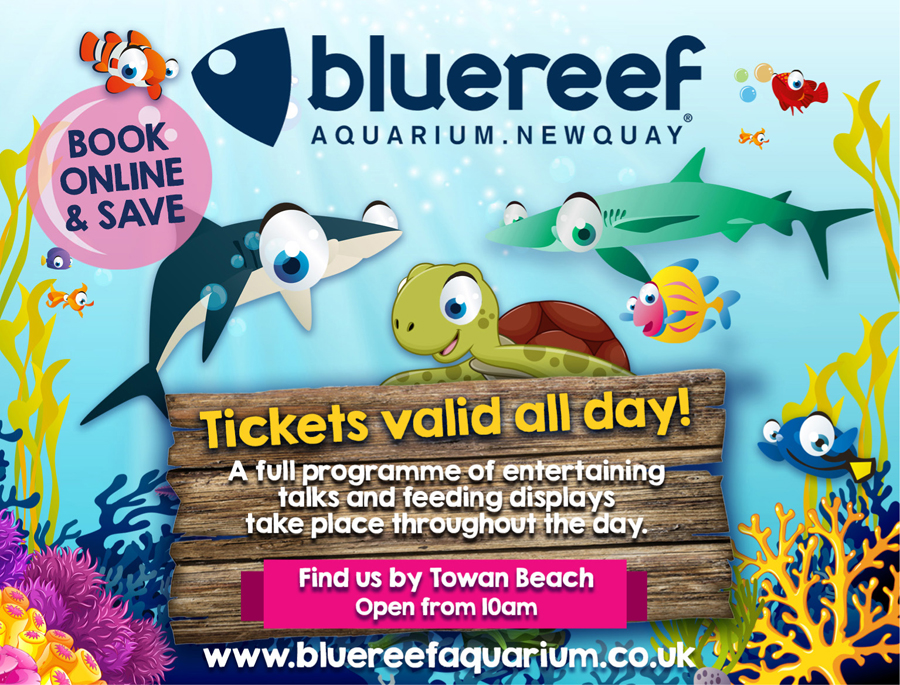 Conveniently positioned on Newquay's sea front this small but well-stocked aquarium is certainly worth a visit. You'll find a large variety of ocean and sea creatures from both local shores and more exotic locations. To help you learn about the creatures on display, including sharks, turtles and pufferfish, there are informative fact boards dotted around, talks and regular feeding sessions.
For us, the highlight was the underwater tunnel where you find yourself really up close with the fish. It's worth just sitting here for a few minutes to watch the sea creatures of all shapes and sizes glide above and around you.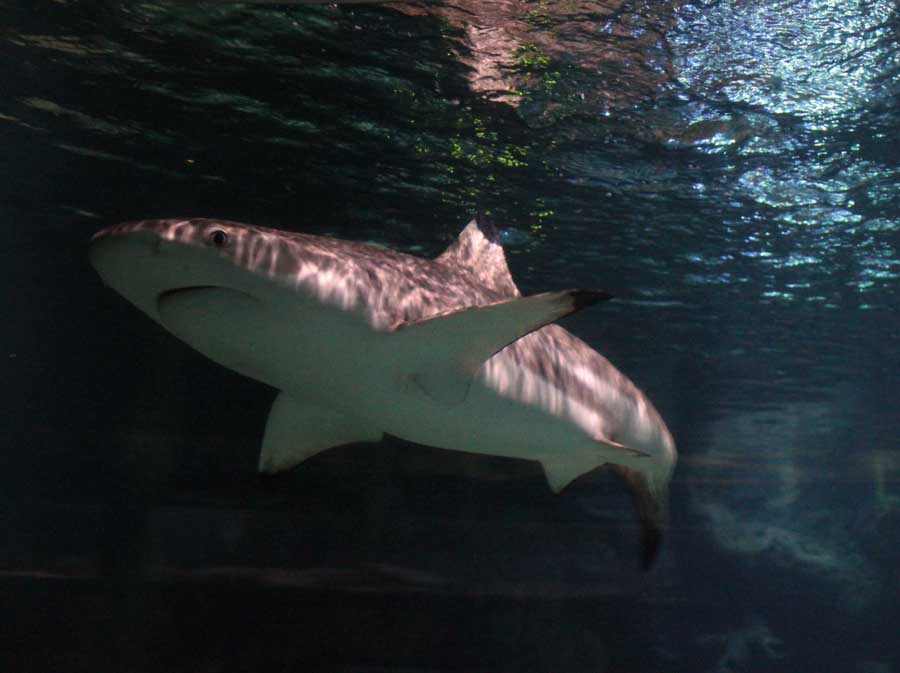 Tickets can be bought at the aquarium, although we'd recommend booking online because you receive a discount. There's also the option of an annual pass offering unlimited access to not only this aquarium but others in the group.
As it's situated right on the sea front, there are no parking facilities at the aquarium.
More information:
www.bluereefaquarium.co.uk, tel: 01637 878134
THE LOST GARDENS OF HELIGAN
Nowadays, the gardens are well-known across the world but for decades they were literally forgotten and overgrown as a result of its employees heading off to battle during the Great War.
It wasn't until 1990 that it was re-discovered by Tim Smit and John Willis (a descendant of the Tremayne family which originally owned the estate) and, thankfully, the restoration began. Now, there are 200 acres to explore. We visited at Easter when the weather wasn't at its best yet the mystery and beauty of the gardens still shone through.
There is so much variety, everything from formal gardens and woodland walks to our favourite – The Jungle. In this section of the gardens, it's like stepping into another world with boardwalks guiding you through the dense foliage and around the myriad ponds.
Our visit contained many highlights, but the kids particularly enjoyed the Burmese rope bridge, considered to be among the longest in Britain; it's certainly the place for a photo opportunity – that's if you can stop the bridge wobbling!
Before leaving, take time to recharge your batteries at the Heligan Kitchen. The selection of scones and cakes is amazing. Not only are they delicious but they're reasonably priced, too; and it was pleasing to see some offerings were vegan with clear labelling to inform customers.
More information:
www.heligan.com, tel: 01726 845100
WATERSPORTS AT RETALLACK PARK
Retallack Resort and Spa offers water sports galore to get your adrenaline pumping!
The Aqua Park is a Total Wipeout-style course where anyone aged six or over can revel in sliding, jumping and climbing across obstacles in the water. If you're over eight, meanwhile, and want to learn or polish up your water-skiing skills, then the Wake Park is the place to be.
Hollie and Peter, however, opted for the FlowRider. As the resort's promotional material states, there's "no need to worry about the surf report when you come to Retallack. Now you can surf the perfect wave every day of the year on Cornwall's only FlowRider." Reason being, FlowRider brings the waves to you. "Combining the experience of surfing, snowboarding and skateboarding, this is the coolest new sport around. By generating a sheet of water no more than three inches deep, the FlowRider's waves are safe and easy to ride."
As it turned out, Hollie and Peter did eventually find the waves easy to ride but when we arrived and saw the power of the water on the surf simulator, it was hard imagining how they'd get on the surf board in the first place. Fortunately, though, it wasn't long before they were both enjoying this exciting experience.
Okay, you're bound to have a few tumbles but with shallow water and instructors on hand, it's safe, even for younger ages. However, you must be over 107cms tall.
Hollie and Peter thoroughly enjoyed FlowRider, despite being rather cold by the end, and we'd recommend this to everyone. If you feel up to it, Retallack offers seven-day packages to cover all three activities. Zorbs and paddle boarding are also activities you'll find at the resort.
Before you head off, have a bite to eat at The Lookout Restaurant. The staff are friendly, which applies to those running Flow Rider as well, and the food delicious.
This intriguing building on Falmouth Harbour opened in 2003 and stands on land originally occupied by boat builders' sheds. Not wanting to discard such history, the architects were influenced by the area's past when designing what has become home for the National Maritime Museum.
This huge museum stretches over five floors and boasts 15 different galleries. Exhibits focus on, amongst other subjects, Falmouth's maritime history, Cornwall and the surrounding ocean, a vast collection of small boats hanging high above the gallery floors, and Tidal Zone, where you can look through windows into the harbour and watch the tide as it rises and falls.
Then there is The Hold, the museum's temporary exhibition space. When we visited, the exhibit was The Titanic Stories, which runs until 7th January 2019. I must say, it was probably the best, most informative exhibition on the subject we've seen – it was brilliant!
As well as affording visitors the chance to see numerous personal artefacts and stories of the tragic event back in 1912, the exhibition examines the circumstances surrounding the sinking as well as the various myths and assumptions that came to light both in the news and, later, on film.
You could spend hours here, partly because the exhibitions are extremely well presented and interest young and old alike. Peter particularly enjoyed trying to sail a model yacht on the Boat Pool and testing out the Jet Ski – well, in his imagination – in the Survival Zone; at least, though, he got to sit on one inside the main hall.
Any visit, though, isn't complete without stopping for refreshments at the museum's Waterside Café which offers good food and spectacular views over the harbour.
If you don't have time to see everything in one visit, don't worry because a single ticket (£13.50 adults, £6 for children under 18, free for anyone under five) allows unlimited entry for the entire year – what a great offer.
More information:
www.nmmc.co.uk, tel: 01326 313388
LAPPA VALLEY STEAM RAILWAY
Lappa Valley is a delight for not only rail enthusiasts but fun-loving families, too.
Just over a mile of track runs through the valley between stations at Benny Halt and East Wheal Rose. This area is rich in history and, in fact, the actual line the train chugs along dates back to 1849 and was used to serve a mine at East Wheal Rose.
Having parked in the large free car park, visitors hop aboard a pretty 15-inch gauge steam train which transports them to a small leisure park. Here, you'll find a host of family-friendly activities, including crazy golf, play areas, canoeing and boat lake, tearoom, woodland walks and the largest mine engine house in Cornwall. If that wasn't enough, there are two other railways to jump aboard.
Unlike many other parks, everything is included in your ticket price (with the small exception of the coin-operated cars) which is a welcome change for parents.
Lappa Valley is an attractive and interesting leisure park which is, perhaps, best suited for families with younger children rather than teenagers or older kids. But don't let that stop you visiting this lovely, quiet spot.
More information:
www.lappavalley.co.uk, tel: 01872 510317
For further information about Cornwall, check out www.visitcornwall.com or call 01872 261735.
Review completed: April 2018