If I were thinking about buying a caravan holiday home or even a luxurious lodge, I'd want to find a site as well-run, attractive and tranquil as Green Meadow on Wales' rugged west coast.
It's said that owning a holiday home can enhance one's life and I can understand why. Whether you visit for months on end, once or twice a year, or just the occasional weekend, it's nice knowing you don't need to book and can come and go as you please. Although units on Green Meadow can't be rented out for holiday hire, family and friends are more than welcome.
Recently, we were lucky enough to sample a spacious, well-equipped two-bedroom caravan at Green Meadow, located at Clarach Bay, just along the coast from Aberystwyth; our five-night stay certainly made us aware of the benefits such a purchase can offer.
Green Meadow is a very picturesque park within short walking distance of the beach at Clarach Bay. One of four parks within the immediate area, it's head and shoulders above the others in every respect, in our opinion.
Flanked by hills, the park is immaculately maintained with the holiday homes well spaced to provide privacy and take advantage of the sweeping views across the bay.
The two-bedroom unit we tried out had everything needed for a comfortable stay, including oven, hob, microwave, fridge/freezer, TV and an ensuite in the main bedroom. It was also lovely having a large decking area so we could enjoy the sunshine, which kindly shone for most of our stay, and keep an eye open for the Red Kites which are seen regularly around this region.
The site, which is an owner-occupier only park (so no tents, motorhomes or tourers allowed) benefits from piped gas so no unsightly gas bottles are spotted or needing to be changed at the most inconvenient times; other pluses include wifi, gym, sauna room and laundrette.
But among Green Meadow's biggest assets are the affable and extremely helpful hosts, John and Karen, who run the site like clockwork without being overbearing; thanks to their approach, a relaxed, friendly, family-like atmosphere runs through the park.
Opened in 1966, John's family owned the site before leasing it to Salop Leisure. Initially, permission was granted for around 60 caravans before an extra 20 were allowed; ultimately, though, this means there is plenty of room surrounding each of the units.
Green Meadow (open from March-end of November) is just one of nine "5-star parks" the company owns, from the beautiful Mid-Wales Coast to the peaceful heart of the country.
In terms of running costs, 2018 prices ranged from £2,850-£3,583.14, including water charges, rates and recycling costs. Electric is metered and owners are invoiced annually; piped gas is invoiced annually, too.
While we were staying, there was a handful of units available to buy on this sunny, southwest-facing elevated position. A new two-bedroom Willerby Aspen Lodge with its floor-to-ceiling windows was available for £79,995 while a used two-bedroom ABI Longmynd 2015 caravan was being marketed for £28,995.
Overall, we enjoyed simply relaxing and staying on the park but being that Green Meadow is situated in such a lovely part of the country, you should take the time to explore Aberystwyth and nearby attractions.
What to see and do…
Aberystwyth
This historic market town, administrative centre and holiday resort can be reached from Green Meadow via a lovely coastal walk. Starting at Clarach Bay, we picked up the coast path easily and enjoyed this beautiful cliff-top walk. If you're lucky, you may spot a dolphin or two swimming by.
The path eventually climbs to the top of Constitution Hill where you'll find the 19th century funicular cliff railway, along with other small attractions. Here the views over Aberystwyth and beyond seemingly go on forever.
If you fancy trying out the railway, save the occasion for your return journey back up the steep hill – your leg muscles will certainly be grateful!
Aberystwyth is an interesting mix of old and new and it's worth strolling its streets. For us, the dramatic Aberystwyth Castle was a highlight. Free to wander around, and affording great views, it's certainly a place for a picnic stop.
Vale of Rheidol Railway & Devil's Bridge
Steam railways offer the chance to step back in time so we couldn't wait to sample the Vale of Rheidol Railway.
Conveniently starting next to Aberystwyth's train station, where free passenger parking is available, we set off on the 11-mile journey through the beautiful Rheidol Valley. Passing a handful of small, perfectly-preserved stations en-route, we reached our destination of Devil's Bridge, an hour later.
The village is named after the three unusual bridges spanning the River Mynach, and to reach them you'll need to walk a short distance along a road which, in the main, doesn't have a footpath so take care.
Upon reaching the bridges you have two choices, each involving a small entrance fee. Either take the short Punchbowl Walk, which takes just ten minutes and affords views of the three bridges, or, like us, try the longer walk to the waterfalls.
This definitely isn't a walk for the infirm and sensible shoes are a must, which you'll appreciate on reaching Jacob's Ladder, with its near-vertical 100 downwards steps; and if you go down, you'll obviously have to come up the other side!  The effort was worth it, though, and the waterfall looked spectacular against the heavily-wooded gorge.
King Arthur's Labyrinth
On our only cloudy day, we travelled further afield to Corris, a 45-minute journey from Green Meadow, to visit King Arthur's Labyrinth within the Corris Craft Centre.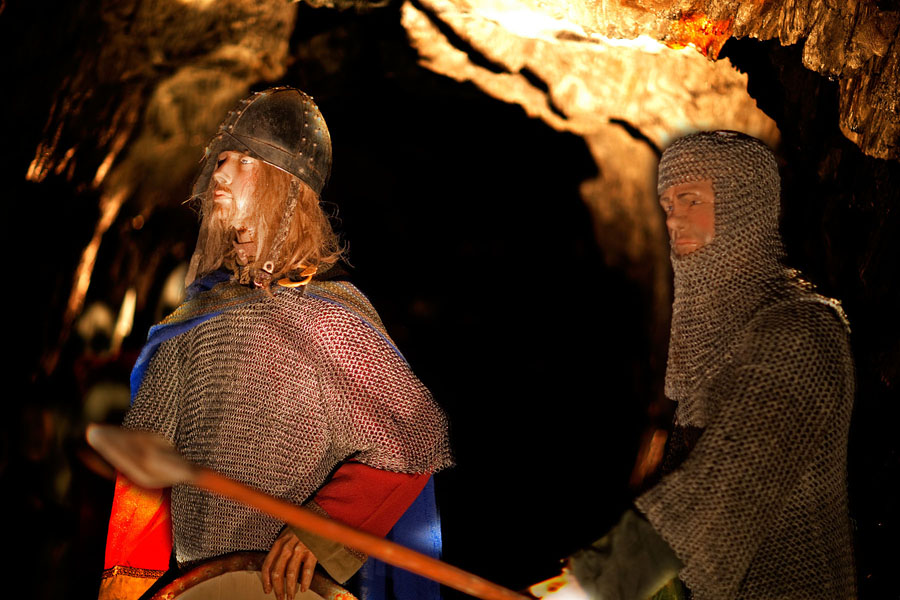 The promotional literature advises visitors to wrap up warm so it's worth taking some extra clothing along, just in case. I was fine but the rest of my family wore sweaters.
The Labyrinth is set within old mining caves and our adventure started as we climbed aboard a boat aided by a hooded boatman. We sailed deep into the mountain along a narrow cave until emerging to continue our journey on foot.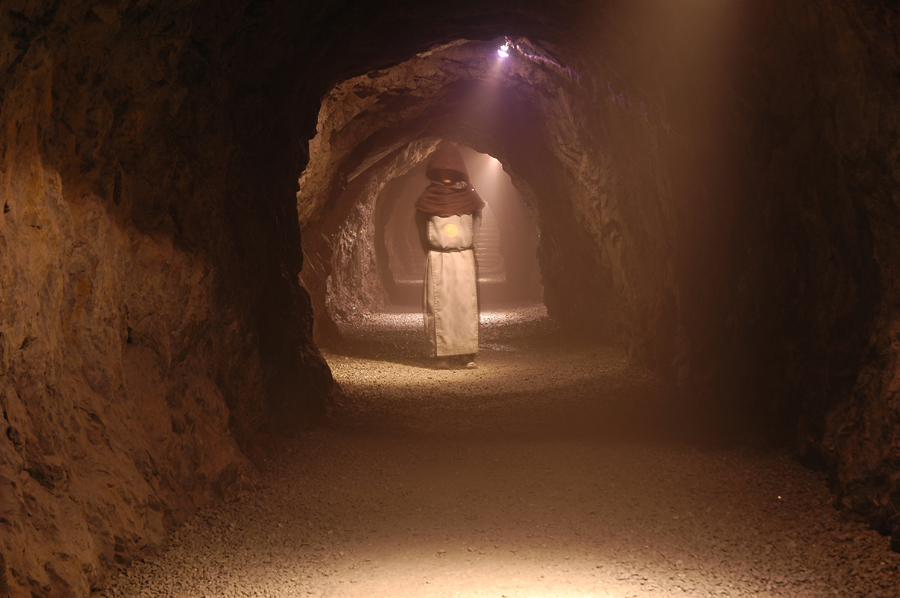 Our guide led us into numerous caves and caverns where we paused to hear tales of King Arthur before returning to our boat for a fight with the dragons!
The tour was interesting and enjoyed by all of us, including Hollie and Peter, partly because it was fascinating to travel so deep into the mountainside. However, we would have preferred slightly more lighting to appreciate the beauty of the caves, especially in the larger caverns, which looked amazing.
If you want to warm up after visiting the caves, pop into the on-site Y Crochan Café, offering hot and cold food throughout the day. The menu consists of breakfasts, snacks and main meals using local ingredients and a particularly large selection of cakes which definitely caught the eye. We enjoyed lunch and it was delicious and the service excellent; prices were very reasonable, too, which often isn't the case when situated within a tourist attraction.
Centre for Alternative Technology (CAT)
Whilst in the Corris area, it's also worth stopping off at CAT where many forms of renewable and sustainable energy are studied and researched in the hope of promoting a greener way of living.
The fun starts straight away when you hop aboard the water-balanced cliff railway and head up to this intriguing place.
Within your ticket price, you can join one of the site's guided tours or, if you prefer, just wander around. There are play areas and lots of interactive displays to keep kids amused as well as working examples of environmentally-friendly living to discover. If, like us, you want a longer walk, pick up the Quarry Trail which twists its way around the outskirts of the site.
Before heading off, take a break in the vegetarian café which uses salads and vegetables straight from CAT's own vegetable plot.
More information:
Green Meadow: www.greenmeadowholidayhomepark.co.uk; 01970 820450
Salop Leisure: www.salopleisure.co.uk; 01743 282400
Mid Wales Tourism: www.visitmidwales.co.uk; 01654 702653
Vale of Rheidol Railway: www.rheidolrailway.co.uk; 01970 625819
King Arthur's Labyrinth: www.kingarthurslabyrinth.co.uk; 01654 761584
CAT: www.cat.org.uk; 01654 705950
Reviewed: May 2018