Think of Snowdonia in North Wales and chances are images of high, rugged peaks – epitomised by Snowdon itself which, at over 3,500 feet, is the country's highest – spring to mind; and quite rightly, because these majestic mountains are a major draw for tourists.
But this region – designated a national park in 1951 – has much, much more to offer visitors as we discovered on revisiting the area recently. Whatever the weather, there is more than enough to keep you busy and entertained.
We found our various ports of call so interesting that we spent more than expected at each – that must be a good indication of why Snowdonia and the surrounding area is, in our view, an excellent destination for family holidays.
Here are seven of our favourite destination/attractions:
HARLECH CASTLE
Built by Edward I, this 13th century castle used to be close to the sea but over the years the water receded leaving this impressive medieval fortification stranded atop a spur of rock.
Panoramic views can be enjoyed from its walls, which combine a great sense of majesty and strength. Take care, though, when walking around the walls at the highest level because there's a fair drop the other side!
As well as exploring the various sections of the castle, we enjoyed looking around the modern information centre and gift shop as well as having a drink at the café while admiring the views towards the mountains.
After leaving the castle, we strolled around the small town of Harlech which offers a handful of eateries and gift shops.
HARLECH BEACH
What an impressive beach! The wide expanse of golden sand stretches miles into the distance and is arguably one of UK's finest. From the large car park, a good path leads you down to the sand. We enjoyed several strolls along the beach which is fringed by dunes that as well as being a nature reserve are designated a Site of Special Scientific Interest.
Dog walkers are restricted to one side of the beach which means it's ideal for bringing your kids because you know that a large swathe of sand can be played on without the worry of what your children might encounter!
BOUNCE BELOW
Deep inside a disused slate cavern in the mountains of North Wales, you'll find gigantic trampoline-styled nets hanging at varying levels within vast chambers, linked together by walkways and slides. Complementing the overall experience of bouncing around within an old cavern at Blaenau Festiniog, a technicoloured light display adds to the atmosphere.
Although the attraction gets busy, a large car park meant that we didn't have to worry about whether we'd find a parking place.
As we'd pre-booked our one-hour bouncing session, the admission process was straightforward and the walk to the cavern itself very short. With nowhere to store clothing or bags in the cavern, lockers are available close to reception at a cost of £1 (non-refundable).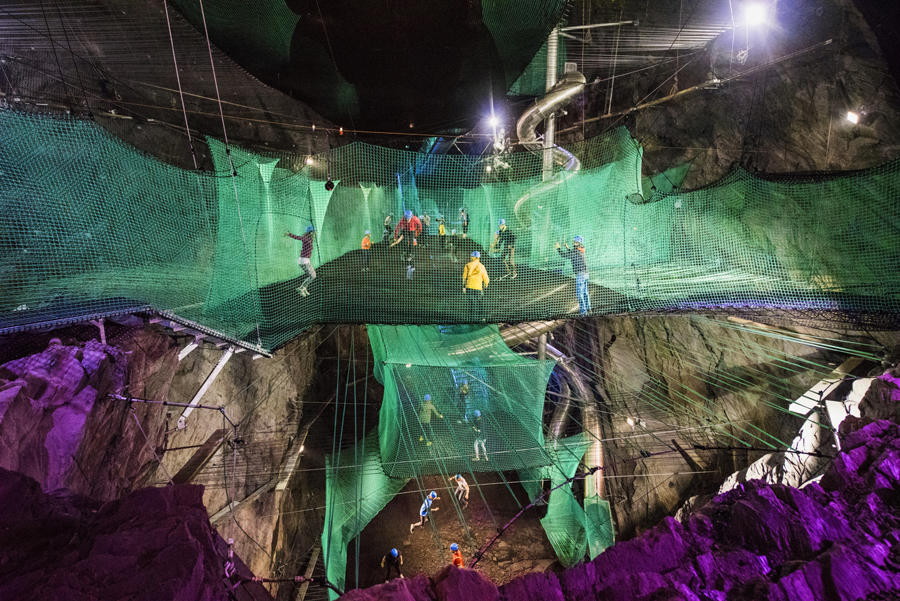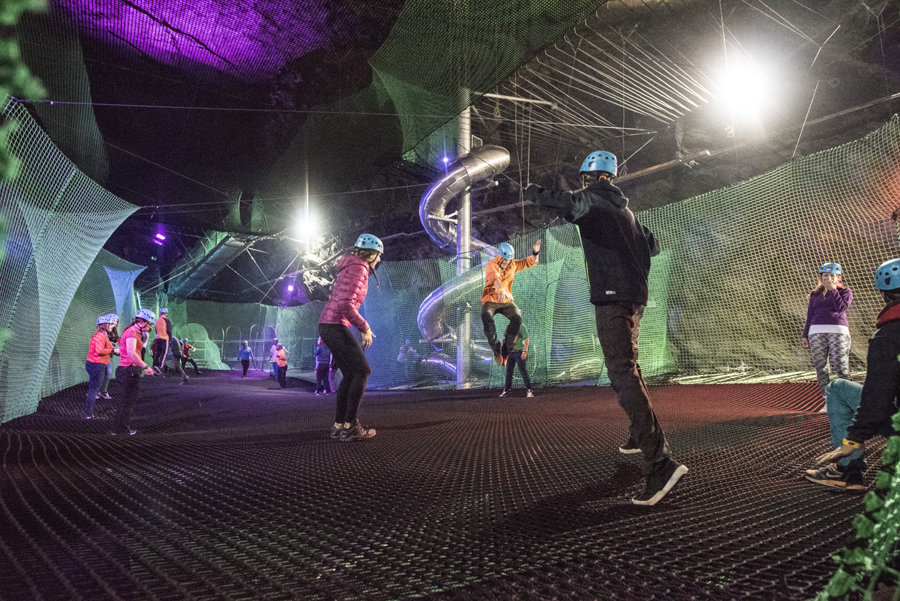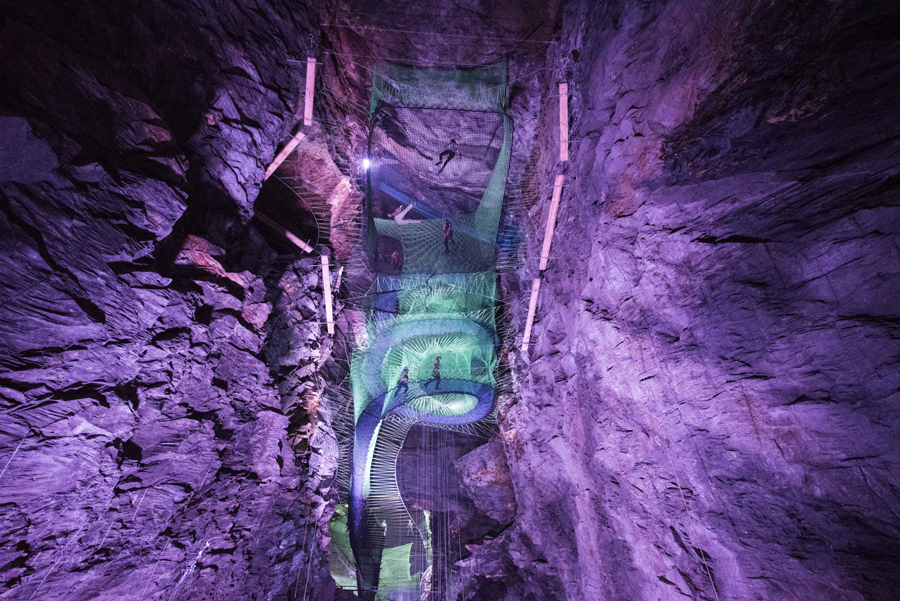 The minimum age to bounce is seven while children between seven and twelve need a participating adult (at a ratio of 1:7).
This is an ideal activity for days when the forecast looks dodgy and, as the promotional leaflet states, it's an "all-year round, all weather, subterranean experience".
We thoroughly enjoyed bouncing around to our heart's content. When we got hot and needed a rest, we headed to the water dispenser located at the side of the cavern alongside benches. While you're bound to build up a sweat bouncing for nearly an hour, spectactors are advised to bring some extra clothing because it can feel cool in the cavern.
GO-KARTING AT GLAS FRYN PARK
Although we only participated in go-karting, this activity centre offers so much more, including cable wakeboarding, clay pigeon shooting, bowling, junior quad biking, kayaking, paddleboarding, fishing and an indoor soft play area. And if that wasn't enough, you can enjoy a drink and bite to eat at the on-site café.
Just four miles from Pwllheli, it's open every day except Christmas Day and has a relatively large car park – and it's free.
In terms of go-karting, there are two tracks, situated alongside each other. One caters for Seniors (14+ ), the other Juniors (8-13). Double karts are available for children aged three plus accompanied by an adult or the disabled, so it means everyone is afforded the chance to join in.
No pre-booking is necessary which, in some ways, is a good idea. The only downside is that you must be prepared to queue, especially at busy times; we were waiting in the line for an hour despite it not being the centre's busiest period. Even so, we all enjoyed getting behind the wheel and racing around the shapely track.
Participants have to watch a short safety video beforehand while kit (overalls and helmet) are supplied not only to protect your own clothes but for safety reasons, too.
It's a fairly low-key site with little in the way of high-tec and the tracks aren't huge, but nonetheless we still had great fun and would jump at the chance of returning.
GreenWood Forest Park 
Make sure GreenWood Forest Park commands a prominent position on your itinerary. This award-winning hive of activity has earned many plaudits and has been voted Best Family Attraction in North Wales for seven years running – and it doesn't take long to understand why.
The park is open all year, other than a few days around Christmas and New Year's Day, and strives to combine "elements of fun and adventure with learning for both children and adults", offering "maximum entertainment on a green theme".
I agree, it's a very eco-friendly park with around 400 trees planted each year since opening its gates in 1993. There are lots of interesting fact boards dotted around the park informing you that, for example, 130 cubic metres of rainwater are harvested annually and used for flushing the park's toilets.
The park is aimed primarily at three to 12-year-olds but adults and children alike will enjoy visiting. Hollie, our 17-year-old daughter had as much fun as Peter, who's 12; and, in fact, I probably enjoyed it as much, too.
Among the many rides and forms of entertainment, our favourites were The Great Green Run, where you zoom down 70 metres on a sledge, Longbow Archery, Jungle Boats and the Green Dragon Coaster, reputedly the world's first people-powered rollercoaster! It's a 20-person, five-car train travelling a 250-metre long track, including a 360 degree horizontal loop and reaching 25mph.
A highly recommended attraction.
Portmeirion
No trip to this corner of Wales is complete without a trip to Portmeirion, a unique coastal resort open all year (except Christmas Day).
For fans of Sixties' TV programme, The Prisoner, starring Patrick McGoohan, this picturesque village will be very familiar because it's where the series was set. But you don't have to be a fan of the show to enjoy this attractive and, in some ways, bizarre little place.
It was designed and owned by Sir Clough Williams-Ellis, a Welsh architect who wanted to prove that a fantastic setting could be developed without ruining the area. He spent five decades building Portmeirion and what a fine job he made of it. Colourful, secretive, mysterious are just some appropriate adjectives when describing this Italian-influenced resort.
As well as strolling around the village and admiring the gardens and buildings, spare time to undertake a forest or coastal walk because the views are certainly worth it.
Llanberis Lake Railway
On the shores of Llyn Padarn there are plenty of family-friendly attractions. One afternoon, we decided not to join the throngs of visitors clambering on the train heading up Snowdon and, instead, jumped aboard the Llanberis Lake Railway.
The narrow-gauge steam train pulls its passengers on a five-mile round trip along the lake's edge and the views were fantastic, especially towards 13th century Dolbadarn Castle and Snowdon.
There's a timeless appeal about vintage trains and we couldn't think of a more leisurely way to explore the beautiful lakeside than on the train. It's a delightful ride and one that the whole family will enjoy.
More information:
www.zipworld.co.uk, tel: 01248 601444
www.glasfryn.co.uk, tel: 01766 810000
www.greenwoodforestpark.co.uk, tel: 01248 671493
www.portmeirion-village.com, tel: 01766 770000
www.lake-railway.co.uk, tel: 01286 870549
Reviewed: July 2018