Once the world's leading producer of lace and textiles, Nottingham is certainly a historic city and birthplace of many famous faces from all walks of life. Its most famous son, however, will always be Robin Hood, who reputedly roamed these parts.
During the summer of 2019, we were lucky enough to spend a few days in and around the region and a good time was had by all. Situated in the heart of England, it has something for everyone and we'll certainly be back for more. Here, we've compiled some highlights, recommendations and thoughts to help when preparing your own adventure in this neck of the woods…
PLACES TO VISIT IN NOTTINGHAM
CITY OF CAVES TOUR
Underneath the streets of Nottingham is a hidden world of caves holding a trove of secrets. In fact, the city boasts the UK's biggest cave network and they're well worth exploring.
Well-organised tours operate regularly and provide an interesting insight into the various uses of these mysterious underground sandstone caves.
Through the use of actors and guides, we discovered how the caves have been used as a medieval tannery, air raid shelters, bar cellars and, in years gone by, meeting places for the more unscrupulous members of the public as they planned their treachery. Make sure this underground world is on your itinerary.
NATIONAL JUSTICE MUSEUM
With over 40,000 objects on display, this is the UK's largest exhibition of crime and punishment.
Depending on the timing of your visit, you may be able to take part in a pretend court case. When we visited, court proceedings were already in full flow, so we carried on around the vast building encountering several actors who enlightened us on life within a prison in years gone by.
An interesting touch is the prisoner number you're given on entry which, when matched to display boards within the exhibition, provides real facts about a specific prisoner once held in the cells at Nottingham.
A very interesting and informative time, especially when coupled with the City of Caves tour, for anyone wanting an in-depth view of city life in the past.
LUDORATI
If you want a café with a difference, head to Ludorati. Board game lovers of all ages will certainly be in their element because it's packed with games of every description!
You can opt to sit in the café area and choose from a small selection of popular free games or, if you prefer, book a paid session and select from the many boxes adorning the shelves.
An added attraction currently is a pop-up exhibition detailing the history of Robin Hood via board games and literature. It's hoped that as its popularity increases, the exhibition may find a more permanent home.
NOTTINGHAM BEACH AND PLAYA DAY CLUB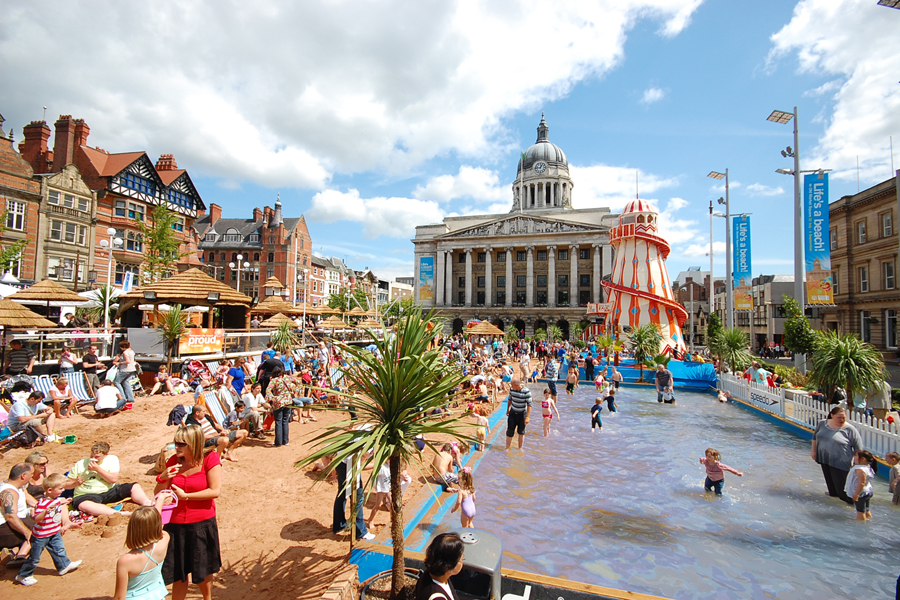 Every summer, locals and visitors alike can enjoy the beach life here in the heart of England. With sand, water, deck chairs and cabins selling food and drink, you have everything you want for a day on the beach.
This year, the Playa Day Club was a new addition, hoping to provide a taste of Mediterranean holiday life. Its bar area, for over 18s only, offered day beds and relaxing pool-pod seating with live entertainment in the evenings.
The restaurant attached to the club, which was open to families until 5pm, offered a fine dining experience, courtesy of Master Chef winner, Laurence Henry. The food is well presented and tasty, albeit a bit limited for vegetarian and vegans like us.
STONEBRIDGE CITY FARM
This really is a true city farm – it even has a public footpath weaving right through it!
When the idea was conceived some 40 years ago, the objective was to provide "a slice of the countryside in the heart of the city" to local families and disadvantaged, vulnerable individuals.
The farm is free to enter, although donations are welcome, and offers many learning opportunities for schools, people with learning and physical disabilities plus the local community.
It's also an interesting place for tourists. We bought feed for the animals as well as tokens allowing us to hold some of the animals in the pet's area; the kids loved the experience.
The small on-site shop sells souvenirs and fresh produce from the farm, including their own honey, while the café menu is full of offerings made from the farm's produce or local organic food.
Something that amused us is that there has been a new children's play area installed. The old one, meanwhile, has been donated to the animals!
NOTTINGHAM CONTEMPORARY
Since opening in 2009, over two million visitors have walked through the doors of this iconic green and gold building sunk into a sandstone cliff. Over the years, Nottingham Contemporary has established a well-earned reputation for innovative art and has earned many plaudits for its 50 plus exhibitions which have been hosted in this architecturally praised building.
PLACES TO VISIT OUTSIDE NOTTINGHAM
RUFFORD ABBEY & COUNTRY PARK
This Cistercian Abbey dates back to 1170 and is set within Rufford Abbey Country Park. We were pleasantly surprised to find that entry was free, albeit there is a small parking fee.
The grounds are extensive, stretching over 150 acres and offer walking trails, family activities and various eateries selling hot food and cakes.
We enjoyed the nine-hole crazy golf with its rather ingenious holes providing quite a challenge. Afterwards, we strolled over to the lake and gave our legs some exercise on the peddle boats which turned out to be a very peaceful way to pass half an hour.
Before leaving, we tried our hands at archery. There was no need to book, although expect a bit of a wait at busy times. But once it's your turn, you have a full 15 minutes with unlimited arrows, so plenty of time to get to grips with the activity.
Although parts of the abbey were closed to the public when we visited, this didn't affect our enjoyment. It's a very attractive place and well worth a visit.
CRESWELL CRAGS
When approaching Creswell Crags by car, it's hard to imagine that not far away you'll discover an Ice Age gorge steeped in history. Run by a charity, the lake, gorge, shop and café are free to enter, although the car park fee is £3 all day.
Visitors can buy tickets for the exhibition and tours of Ice Age rock art and Witches' Marks or even a tour of an Ice Age hyena's den. We decided to wander around the lake and gorge which looked stunning in the sunlight. On your way around, you'll see plenty of open spaces for picnicking.
Returning to the main building, we visited the museum which houses objects and remains unearthed at Creswell, affording us an intriguing insight into life during the Ice Age.
No visit is complete without stopping off at Crags Edge Cafe. This attractive eatery, with inside and outside seating, offers a selection of lunches and cakes – the perfect way to end your visit.
FAMILY-FRIENDLY PLACES TO EAT AND DRINK IN NOTTINGHAM
OSCAR AND ROSIE'S
If you're looking for a relaxed night out then try Oscar & Rosie's Pizza restaurant. The décor is rustic and, based on our experience, the restaurant attracts a diverse clientele.
Starting as a pop-up shop in 2013, the restaurant now possesses a permanent location in the heart of the city as well as a branch in Leicester.
The owner's mission is to avoid using pre-prepared, processed foods which, to the delight of customers, means sauces and toppings are fresh and made from scratch.
Although the menu focuses on pizzas, a selection of mac and cheeses are available, too; there is also a good variety of vegan pizzas and Oscar and Rosie's "Pizza by the Metre"!
BILL'S
Although Bill's (Nottingham) is part of a UK chain, it doesn't possess a bland, corporate feel. Take the venue for starters: it's set in a beautiful Georgian building, a former bank, and exudes an exciting eclectic style with bright seating and soft furnishings plus an interesting mezzanine level.
The extensive menu covers everything from breakfast to dinner, including a children's menu and selection of vegetarian options. There's definitely something for most tastes.
WHERE TO STAY
IN THE CITY…
NOTTINGHAM CROWNE PLAZA
This contemporary hotel is perfectly situated for visiting the city. With parking (fee required) attached, it means you can leave your car behind and enjoy the city's sights on foot.
The hotel exudes a feeling of relaxation and has plenty of casual seating areas dotted around the reception and bar – with decor akin to a grand railway station.
The bedrooms are modern and spacious and, if like us, you're on the 8th floor, you can enjoy access to the Club Room where you'll find complimentary drinks and snacks.
Breakfast is plentiful and served in the large restaurant. Then afterwards, if you want to burn off the calories, you can head to the gym, spa or pool. If you'd rather go out for a jog, the hotel even supplies a booklet outlining running routes around the city along with free water and fruit for your return – what a great idea!
OUTSIDE THE CITY…
SHERWOOD HIDEAWAYS
After an exciting but tiring few hours of activity, the choice of accommodation for our first night's stay was spot-on: a luxury wooden cabin nestled within Sherwood Forest. But don't get the impression the setting is dark and damp. Sherwood Hideaway's luxury holiday lodges are situated in a wide clearing on the 13,000-acre Thoresby Hall Estate, so it's open sky above rather than a canopy of trees; in fact, until recent times an army camp had stood on the site.
The park has been handed down through the generations of the same family for the past 400 years. In addition to being used for relaxing lodge breaks, the park is still used for farming and forestry operations.
A perfect base for families or couples, walking and cycling opportunities abound in this area. We stayed in a three-bedroom lodge complete with private hot-tub. It was an ideal way to relax after a busy day. Inside, the cabins are well equipped with contemporary décor. Free wi-fi is available, too.
More information:
www.visit-nottinghamshire.co.uk
www.creswell-crags.org.uk, tel: 01909 720378
www.stonebridgecityfarm.com, tel: 0115 950 5113
www.ludoraticafe.com, tel: 0115 959 6998
www.nationaljusticemuseum.org.uk, tel: 0115 952 0555
www.sherwoodhideaway.com, tel: 01623 824594
www.crowneplaza.com, tel: 0871 942 9161
www.bills-website.co.uk, tel: 0115 941 3753
www.oscarandrosies.com, tel: 0115 936 1983
www.nottinghamcontemporary.org, tel: 0115 948 9750
Reviewed: August 2019