A warm welcome awaits at The Suites Hotel. Just outside Liverpool, the hotel has a fine restaurant, stunning spa, free parking (300 spaces) and is the only 4-star in the northwest where everyone gets a suite. But that's just a taste of what you can expect. We stayed two nights and couldn't fault any aspect; in fact, we wouldn't hesitate in recommending it as a truly family-friendly hotel.
Okay, it's not surrounded by lush countryside or overlooking a stretch of water and, yes, it sits alongside the busy A580. But we weren't disturbed by traffic noise and realised that its location is, in fact, one of its selling points because within seconds you can join the intercity highway and be heading into Liverpool, just a few miles away. So, for anyone wanting to explore the city famous for everything from the Beatles to the Grand National, it's an ideal place logistically, especially when you consider it's within easy reach of the M6, M62 and M57.
After an efficient and speedy check-in, we headed to our suites and were pleasantly surprised. Not only were they spacious, but they contained all the facilities needed for a comfortable stay, including Queen size beds, fridge (useful when travelling with kids), SkyTV (including sports channels), free wi-fi and a separate office-cum-cosy lounge area with a sofa, desk, another TV, etc.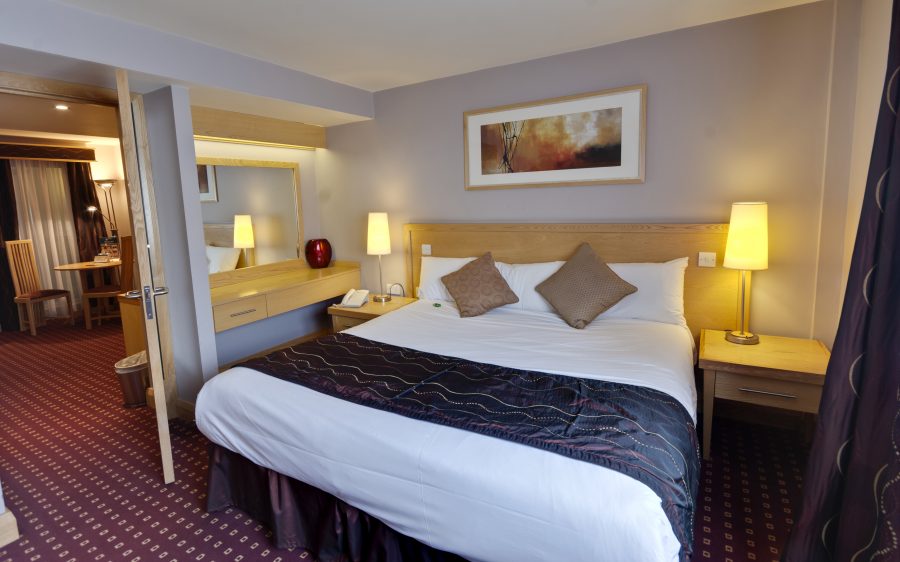 Formerly the Bell Tower, it opened, after extensive refurbishment, as The Suites Hotel in 2000, offering 96 suites (76 standard, 20 executive).
It's family-run and you soon pick up on this. Nowhere did we sense the corporate feel one encounters in large hotels. Staff were friendly, calm and a great camaraderie seemed to exist amongst the team.
An extensive breakfast buffet is available each morning and it's nice to find soya milk available. Also, we eat dinner at the hotel one evening and it was an enjoyable experience, helped by the fact a children's menu is available with a range of choices. For kids, two courses plus a drink costs £8.95.
The contemporary-styled restaurant with wooden floors and tables spaced out to give a little privacy can certainly be recommended.
We made use of the leisure facilities, including the 18-metre swimming pool, which was pleasantly warm. Often in hotel pools, we still shiver as you step in tentatively but not here – it meant we went back a couple more times for a quick dip.
Although time didn't allow Paula to sample the recently-opened spa, The Suites Hotel claims to be the only five bubble spa hotel in the Liverpool region. Promotional material describes it as "an oasis of tranquillity where you can relax and pamper yourself with an array of treatments from the world-renowned Decleor." But that's not all, the management is proud to announce that "we have been selected to offer the exclusive range of treatments and products from the Haute Couture of beauty Carita, Paris…the only Carita Spa within a 20-mile radius".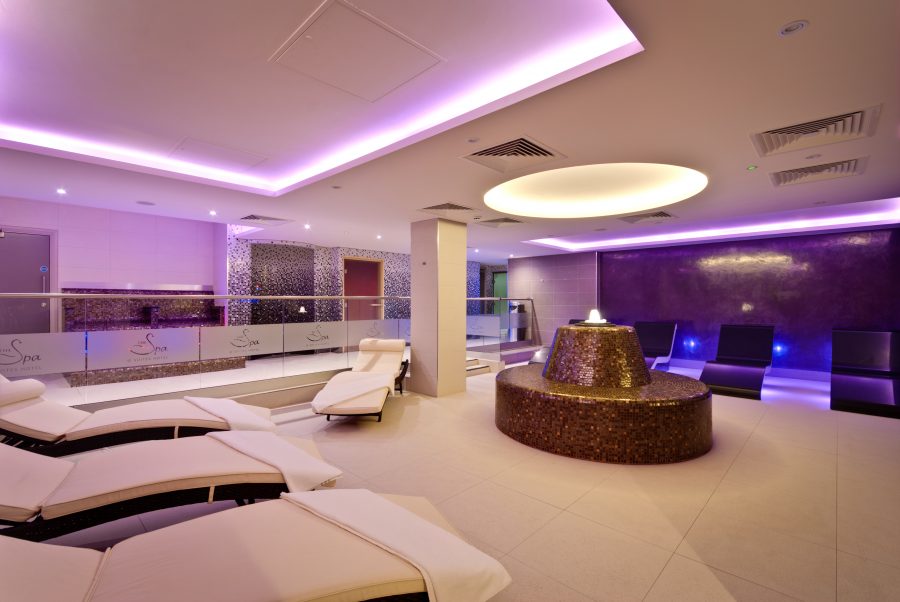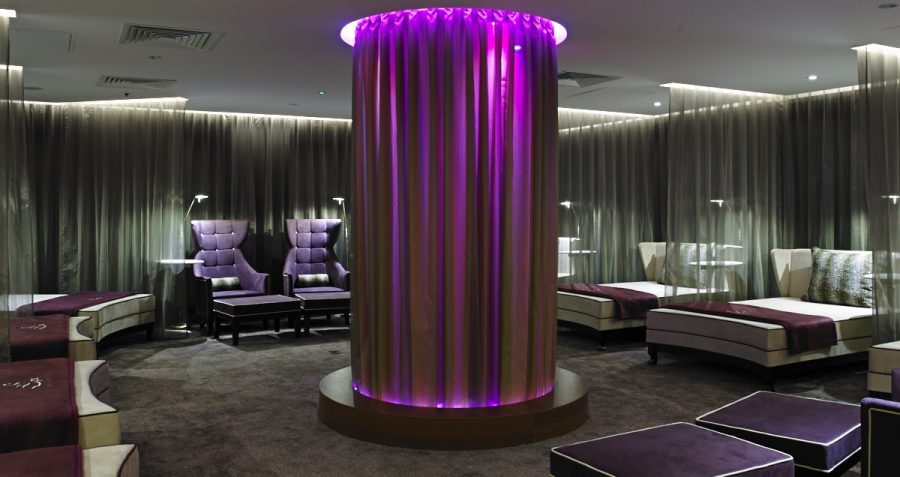 Not only is the hotel well-situated for exploring Liverpool, but there are other attractions worth visiting, too, including Darkstar Ultimate Laser Arena in nearby St Helens (see separate review) and Knowsley Safari Park. A five-mile safari drive weaves its way around this 55-acre site which has been attracting families for over four decades. Now, over 700 animals can be spotted, everything from camels to tigers; you can even venture into the drive-through lion enclosure! But there are other aspects to the safari park, including "On the Foot Safari" where you can explore everything from Bat Forest to Giraffe Tower. If you're staying at the Suites Hotel, make sure you allocate time to visit the safari park – our kids loved it.
So, overall, it was a very enjoyable stay at The Suites Hotel and we would definitely recommend it for families.
More information:
Ribblers Lane
Prescot
nr Liverpool
Merseyside L34 9HA
Tel: 0151 549 2222 (hotel); 0151 549 5400 (spa)
Other contacts:
Knowsley Safari Park
Prescot
Merseyside L34 4AN
Tel: 0151 430 9009
www.knowsleysafariexperience.co.uk
Reviewed: October 2016