If you're looking to book airport parking, an airport hotel or want to relax in a lounge before catching your flight, try using SkyParkSecure for a seamless, hassle-free service. 
I booked airport parking via the company when I flew out of Southampton Airport on a recent press trip and I'd certainly use them again.
As far as the car parking arm of their business is concerned, SkyParkSecure act as a booking agent – they don't own any of the 300 plus UK airport car parks they sell. This means they won't be looking to persuade you to use a certain car park, they'll find the one which suits your needs best, whether that's official airport Meet & Greet services or the more economical Park & Ride options.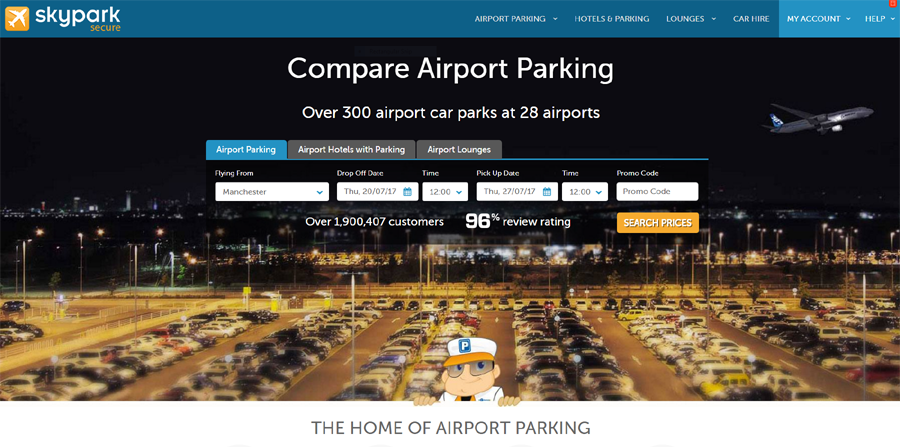 By having a direct relationship with each of the car parks, SkyParkSecure can monitor how car parks are meeting (or not) customers' expectations. Their website contains consumers' reviews and with over 1.7 million customers, there are plenty of opinions available to make a judgement on any particular parking facility. If, however, a car park isn't performing to SkyParkSecure's high standards, they liaise with the owner but, ultimately, will withdraw it from their booking system if performance doesn't improve. This is, reportedly, unique for an airport parking comparison site and results in only the best and most reliable car parks being offered.
You can book online or call a member of the company's helpful customer service team rather than dealing direct with the car park.
After booking my parking at Southampton Airport, I received detailed instructions from SkyParkSecure which provided all the information I needed, such as directions to the airport and procedures for arriving/departing the car park.
I must admit, though, I didn't find the signage particularly clear at the car park while looking for the Drop off/Pick Up area. As a result, I drove into the wrong section and had to get out pretty swiftly else I would have clocked up a charge. Of course, this wasn't SkyParkSecure's fault, it was partly mine and, in my view, unclear directions at the actual car park; the mistake was quickly rectified, however.
I love using Meet & Greet Parking but the one inconvenience is having to phone the company's office 20 minutes before arrival. Although I appreciate why this is necessary (so a driver can be ready to pick up your vehicle), it can sometimes be a problem if you're driving alone and on a motorway. Fortunately, I was using an "A" road so was able to pull over to make my call.
Overall, I found SkyParkSecure's service very efficient and wouldn't hesitate to use the company again. Next time, though, I might try out one of their other services, too.
More information:
SkyParkSecure Ltd
SkyPark House
10 Newton Drive
Blackpool
Lancs FY3 8BS
Tel: 0345 459 9250
Reviewed:  May 2017